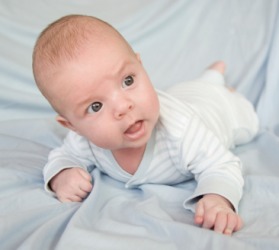 A little baby boy.
noun
The definition of a baby is an extremely young child or animal.

An 11 month old child and a newborn kitten are each an example of a baby.
---
baby
noun
pl.
-·bies
a very young child; infant
a person who behaves like an infant; helpless or timid person
a very young animal
the youngest or smallest in a group

Slang

darling; honey: often a casual term of address

Slang

any person or thing: this car is a tough baby to drive
Origin of baby
Middle English
babi,
diminutive : see babe
of or for an infant: baby food
extremely young
small of its kind
infantile or childish
small and delicate because immature: baby corn, baby lettuces
transitive verb
-·bied

,

-·by·ing
to treat like a baby; pamper; coddle

Informal

to handle with great care: to baby a new car
---
baby
noun
pl.
ba·bies
a. A very young child; an infant.

b. An unborn child; a fetus.

c. The youngest member of a family or group.

d. A very young animal.

An adult or young person who behaves in an infantile way.
Informal

a. A lover or sweetheart.

b. Sweetheart; dear. Used as a term of endearment.

Slang An object of personal concern or interest: Keeping the boat in good repair is your baby.
adjective
bab·i·er, bab·i·est
Of or having to do with a baby.
Infantile or childish.
Small in comparison with others of the same kind: baby vegetables.
transitive verb
ba·bied, ba·by·ing, ba·bies
To pamper like a baby; coddle. See Synonyms at
pamper
.
Origin of baby
Middle English
babe
babe
; see
babe
.
-y
diminutive suffix
Related Forms:
---
baby

Adjective
(not comparable) (used only before the noun)
Of an animal: young.

a baby elephant

Intended for babies.

baby clothes

(of vegetables, etc.) Picked when small and immature (as in baby corn, baby potatoes).
Usage notes
When referring to a human baby (as per noun sense 1 above) the usual practice is to treat 'human' as the adjective and 'baby' as the noun.
Verb
(third-person singular simple present babies, present participle babying, simple past and past participle babied)
To coddle.
---
baby - Computer Definition
The first computer to run a program in its own electronic storage. Developed at the University of Manchester in England by Professor F.C. (Freddie) Williams and graduate student Tom Kilburn, Baby's memory was CRT based, which Williams conceived as a storage device for binary information. In 1948, its "Williams Tube" produced a grid of 1,024 bits. A Big Baby Like the ENIAC, its American counterpart, Baby, officially known as the Small Scale Experimental Machine (SSME), was huge. Driven by 6,000 vacuum tubes and weighing one ton, it was 16 feet long and 7 feet high. Unlike the ENIAC, it did not require extensive rewiring to change the program. An Early Prototype Starting in 1949, Baby served as a prototype for two more powerful Manchester Mark I models, which were the forerunners of the Ferranti Mark I, commercialized by Ferranti-Packard of Toronto in 1951. ICL's Series 1900 was based on the Ferranti machine. In 1959, the MUSE was introduced, the final Manchester machine. It was a faster computer with transistors and magnetic core storage. The commercial version of the MUSE was renamed Atlas.
---