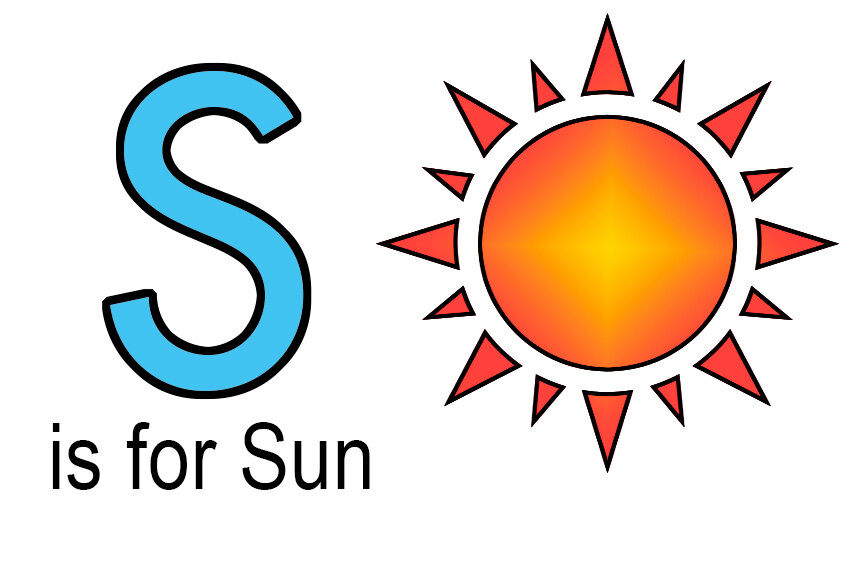 Your students can hear and say the letter S long before they can read it. The ear naturally links the S sound to everything from the hiss of a snake to gas escaping from a sealed container. Use our list of S words for kids and letter S activities to help connect that sound with the letter S in your students' reading.
Preschool Words That Start With S
S is found in many short words that preschoolers can grasp easily. Help them understand the connection between the sound they hear, the shape of the letter and the letter's connection to the word with these S words for kids.

Trace the Letter S Printable
Making that sound-symbol connection is the foundation of all future linguistic development. Download and print an easy trace-the-letter activity with that in mind.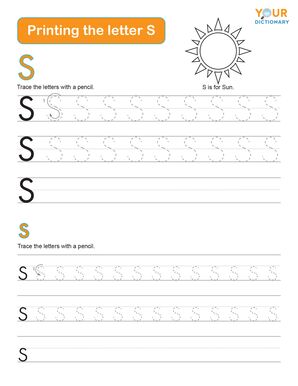 Kindergarten Words That Start With S
There are lots of things that start with S for kids to read about. Check out these longer S words, some of which can be found on the Dolch sight words list. You can also focus on consonant blends such as "sl" and "sh" with these S words.

S Word Matching Printable
How well do your kindergartners know their words that begin with S? Match text and images with a fun worksheet focused on six important S words.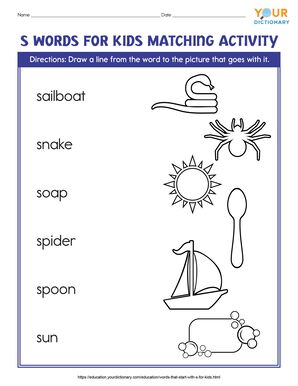 Early Elementary Words That Start With S
Reinforce early reading in elementary school with helpful S words for kids, either by presenting clear, concrete concepts or by being of very common usage.

All of these words are well suited for letter S activities. Simply passing around a newspaper, magazine or other document and having your students underline the S words is a wonderful activity for actualizing their reading. If you have an advanced enough class, you can even encourage your students to look over the document, pick out an S word they know, and define it.
Simply Splendid S-Word Art
We've selected picturesque words for your first and second graders. Give them art supplies and encourage them to draw a sunrise, a sunset, a boat sailing across the open sea or even tea sloshing out of a cup. That visual cue will provide a permanent anchor for the vocabulary word in their minds.

Upper Elementary Words That Start With S
As of fourth and fifth grade, students should be ready to engage with context and wider meanings of words. At this stage of development, vocabulary moves from being a memorization exercise to a starting point for active, curious literacy. Keep reading for a stupendous selection of words that start with S for kids.
Strengthen Sentences With S Words
We chose these words in part as writing prompts. Offer your kids the opportunity to write about "The Sage and Her Spade," or the sorts of scrapes a Spider Spy might get into. Linking that kind of imaginative work to the often less-than-exciting exercise of memorizing vocabulary can help get kids excited about reading.
Superlative S-Word Charades
Make the connection between S words and their meanings with a rousing game of charades. First, split your class into teams. Using a list of verbs that start with S, have volunteers take turns acting out S words for their teams to guess.
S is a common letter with uncommon power. By starting your students off with simple lists to memorize, then steadily involving them in more and more creative work, your class will not only gain a fine understanding of the letter S and its associated vocabulary but also experience the joy and significance of language as a whole.
Still searching for strong S words? WordFinder's list of words that begin with the letter S is a stellar start. It allows you to find words by length, beginning letters and ending letters with its advanced search tool. Super! For more enriching vocabulary and etymology, take a look at our words that start with T.