equal

e·qual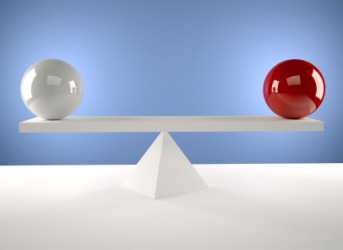 Two spheres of equal weight.
adjective
The definition of equal is someone or something with the same quantity or value, or someone having the same rights as another.

An example of equal is one cup being the same as eight ounces.
An example of equal is women getting the same pay as men for the same work.
---
equal
of the same quantity, size, number, value, degree, intensity, quality, etc.
having the same rights, privileges, ability, rank, etc.
evenly proportioned; balanced or uniform in effect or operation
having the necessary ability, strength, power, capacity, or courage: with to: equal to the challenge

Archaic

fair; just; impartial

Archaic

smooth and flat; level

Archaic

equable
Origin of equal
Middle English from Classical Latin
aequalis
, equal from
aequus
, level, even, flat
any thing or person that is equal: to be the equal of another
transitive verb
e′qualed

or

e′qualled

,

e′qual·ing

or

e′qual·ling
to be equal to; match in value, degree, etc.
to do or make something equal to: to equal a record

Archaic

to make equal; equalize
---
equal
adjective
Having the same quantity, measure, or value as another.
Mathematics Being the same or identical to in value.

a. Having the same privileges, status, or rights: citizens equal before the law.

b. Being the same for all members of a group: gave every player an equal chance to win.

a. Having the requisite qualities, such as strength or ability, for a task or situation: "Elizabeth found herself quite equal to the scene" ( Jane Austen )

b. Similar to or the same as another, as in ability: As the playoffs began, the teams were considered roughly equal.
noun
One that is equal to another: These two models are equals in computing power.
transitive verb
e·qualed, e·qual·ing, e·quals,
or
e·qualled
e·qual·ling
To be equal to, especially in value.
To do, make, or produce something equal to: equaled the world record in the mile run.
Origin of equal
Middle English
from
Latin
aequālis
from
aequus
even, level
Related Forms:
Usage Note: It has been argued that equal is an absolute term—two quantities either are or are not equal—and hence cannot be qualified as to degree. Therefore one cannot logically speak of a more equal allocation of resources among the departments. But this usage is fairly common, and was acceptable to 71 percent of the Usage Panel as far back as 1967. Objections to the more equal construction assume that the mathematical notion of equality is appropriate to the description of a world where the equality of two quantities is often an approximate matter, and where statements of equality are always relative to an implicit standard of tolerance. In The two boards are of equal length, we assume that the equality is reckoned to some order of approximation determined by the context; if we did not, we would be required always to use nearly equal when speaking of the dimensions of physical objects. What is more, we often speak of the equality of things that cannot be measured quantitatively, as in The college draft was introduced in an effort to make the teams in the National Football League as equal as possible, or The candidates for the job should all be given equal consideration. In such cases, equality is naturally a gradient notion and can be modified in degree. This much is evident from the existence of the word unequal, for the prefix un- attaches only to gradient adjectives. We say unmanly but not unmale; and the word uneven can be applied to a surface (whose evenness may be a matter of degree) but not to a number (whose evenness is an either/or affair). • The adverb equally is often regarded as redundant when used in combination with as, as in Experience is equally as valuable as theory or Aptitude is essential; but equally as important is the desire to learn. In our 2015 ballot, the example sentences above were deemed unacceptable by 64 percent and 53 percent of the Usage Panel respectively. Even among those Panelists who rated the sentences as acceptable, there were several who commented that it would be preferable to avoid the redundancy for stylistic reasons. Fortunately, one can easily streamline sentences such as these, as by deleting equally from the first example and as from the second. See Usage Note at absolute. See Usage Note at as1. See Usage Note at center. See Usage Note at perfect. See Usage Note at unique.
---
equal

Usage notes
This is the customary abbreviation of this term as used in case citations. See, e.g., The Bluebook: A Uniform System of Citation, Nineteenth Edition (2010), "Case Names and Institutional Authors in Citations", Table T6, p. 430-431.
See also:
equal
Adjective
(comparative more equal, superlative most equal)
(not comparable) The same in all respects.

Equal conditions should produce equal results.

(mathematics, not comparable) Exactly identical, having the same value.

All right angles are equal.

Bible, Ezekiel xviii. 29

Are not my ways equal?

Spenser

Thee, O Jove, no equal judge I deem.

(comparable) Adequate; sufficiently capable or qualified.

This test is pretty tough, but I think I'm equal to it.

(music) Intended for voices of one kind only, either all male or all female; not mixed.
Usage notes
In mathematics, this adjective can be used in phrases like "A and B are equal", "A is equal to B", and, less commonly, "A is equal with B".
Verb
(third-person singular simple present equals, present participle equalling (UK) or equaling (US), simple past and past participle equalled (UK) or equaled (US))
(mathematics) To be equal to, to have the same value as; to correspond to.

Two plus two equals four.

To be equivalent to; to match
(informal) To have as its consequence.

Losing this deal equals losing your job.
Might does not equal right.
Noun
(plural equals)
A person or thing of equal status to others.

We're all equals here.
This beer has no equal.
Origin
From Latin aequālis.
---