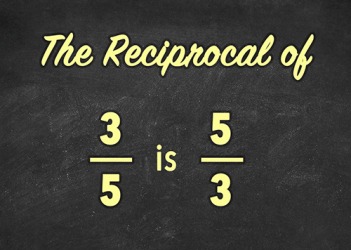 Reciprocal
adjective
The definition of reciprocal refers to something that goes both ways or to something that is done in return for a similar act. In grammar, a reciprocal is mutual action or a relationship between two nouns or pronouns. In math, a reciprocal is the number 1 divided by a given quantity.

An example of a reciprocal is an arrangement where Jim gives Al his apple and Al gives Jim his pear.
An example of reciprocal is when someone gives you a gift because you give them one.
An example of a reciprocal in grammar is when a dog and a cat chase each other round and round.
An example of a reciprocal in math is 1/3 is the reciprocal of 3.
---
reciprocal
done, felt, given, etc. in return: hoping for a reciprocal favor
present or existing on both sides; each to the other; mutual: to feel a reciprocal affection
corresponding but reversed or inverted
equivalent or interchangeable; corresponding or complementary

Gram.

expressing mutual action or relation: "each other" is traditionally called a reciprocal pronoun

Math.

of the reciprocals of quantities, or their relations
Origin of reciprocal
from Classical Latin
reciprocus,
returning, reciprocal from an unverified form
reco-prokos,
backwards and forwards from an unverified form
recos
( from
re-
, back + an unverified form
cos
from uncertain or unknown; perhaps ) + Indo-European an unverified form
proko-,
ahead (from source Classical Greek
proka
, forthwith) from base an unverified form
pro-,
forward, ahead + -al
anything that has a reciprocal action on or relation to another; complement, counterpart, equivalent, etc.

Math.

the quantity resulting from the division of 1 by the given quantity; quantity which multiplied by the given quantity equals 1 (Ex.: the reciprocal of 7 is , of is 7)
---
reciprocal
adjective
Done, given, felt, or owed in return: a reciprocal invitation to lunch.
Existing, experienced, or done on both sides: reciprocal agreements between nations; reciprocal admiration between friends.
Grammar Expressing mutual action or relationship. Used of some verbs and compound pronouns.
Mathematics Of or relating to the reciprocal of a quantity.
Physiology Of or relating to a neuromuscular phenomenon in which the excitation of one group of muscles is accompanied by the inhibition of another.
Genetics Of or designating a pair of crosses in which the male or female parent in one cross is of the same genotype or phenotype as the complementary female or male parent in the other cross.
noun
Something that is reciprocal to something else.
Mathematics A number related to another in such a way that when multiplied together their product is 1. For example, the reciprocal of 7 is 17; the reciprocal of 23 is 32.
Origin of reciprocal
From
Latin
reciprocus
alternating
; see
per
1
in Indo-European roots.
Related Forms:
re·cip′ro·cal′i·ty re·cip′ro·cal·ness

noun
---
reciprocal

Adjective
(not comparable)
Of a feeling, action or such: mutual, uniformly felt or done by each party towards the other or others; two-way.

reciprocal love; reciprocal duties

Mutually interchangeable.
(grammar) Reflexive; applied to pronouns and verbs, but sometimes limited to pronouns that express mutual action.
(mathematics) Used to denote different kinds of mutual relation; often with reference to the substitution of reciprocals for given quantities.
Noun
(plural reciprocals)
(arithmetic) Of a number, the number obtained by dividing 1 by the given number; the result of exchanging the numerator and the denominator of a fraction.

0.5 is the reciprocal of 2.
Origin
From Latin reciprocus.
---