occult

oc·cult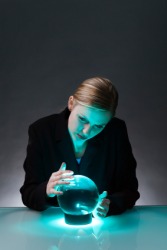 A woman dabbling in the occult.
adjective
The definition of occult is something related to the supernatural or magic.

Chanting magic spells is an example of practices that would be described as occult activities.
noun
Occult is defined as beliefs in the supernatural or in magic.

An example of the occult is a coven of witches who believe in magic.
---
occult
hidden; concealed
secret; esoteric
beyond human understanding; mysterious
designating or of certain arts, studies, or practices, as magic, alchemy, or astrology, involving mysterious powers that some people believe can affect the way things happen
Origin of occult
Classical Latin
occultus,
concealed, past participle of
occulere,
to cover over from
ob-
(see ob-) +
celare,
to hide (see hall)
to hide or become hidden from view

Astron.

to hide by occultation
the occult
the occult arts or studies
---
occult
adjective
Of, relating to, or dealing with supernatural or magical influences, agencies, or occurrences: occult astrological powers.
Available only to the initiate; secret or mysterious: occult lore. See Synonyms at mysterious.
Beyond the realm of human comprehension; inscrutable: The causes of those phenomena remain occult.
Hidden from view; concealed: "Hatchlings and juveniles … keep to this occult place through all the seasons" ( David M. Carroll )

a. Medicine Detectable only by microscopic examination or chemical analysis, as a minute blood sample.

b. Not accompanied by readily detectable signs or symptoms: occult carcinoma.
noun
Occult practices or techniques: a student of the occult.
verb
oc·cult·ed, oc·cult·ing, oc·cults
verb
transitive
To conceal or cause to disappear from view.
Astronomy To conceal by occultation: The moon occulted Mars.
verb
intransitive
To become concealed or extinguished at regular intervals: a lighthouse beacon that occults every 45 seconds.
Origin of occult
Latin
occultus
secret
past participle of
occulere
to cover over
; see
kel-
1
in Indo-European roots.
Related Forms:
---
occult

---