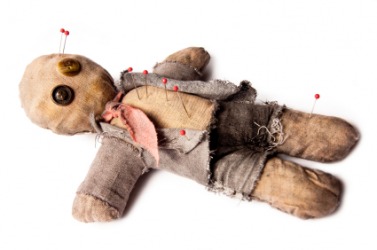 A voodoo doll.
adjective
The definition of voodoo is related to the religion of the West Indies associated with charms and sorcery, or a solution to a problem which really does not solve the problem.

An example of voodoo used as an adjective is in the phrase "voodoo practices," which means the practices of this West Indies religion.
An example of voodoo used as an adjective is in the phrase "voodoo economics," which means economic techniques which don't improve the economy.
noun
Voodoo is defined as a religion of the West Indies associated with practices of charms and sorcery.

An example of voodoo is a belief in curses and spells.
verb
Voodoo means to affect what happens by using charms or sorcery.

An example of voodoo is to put a magic spell on someone.
---
voodoo
noun
pl.
-·doos·
a religion of the West Indies, esp. Haiti, based on beliefs and practices of African and Roman Catholic origin, and noted for its interest in sorcery, charms, and fetishes
a person who practices voodoo
a voodoo charm, fetish, curse, etc.
Origin of voodoo
Creole Fr, of West African origin, originally , as in Ewe (Benin and Togo)
vodu,
fetish, demon
of voodoos or voodooism

Informal

claimed or reputed to provide an ingenious or seemingly magical solution to a problem, but in reality of little value, effectiveness, etc.: voodoo economics, voodoo diet plans
to affect by voodoo magic
---
voodoo
noun
pl.
voo·doos
A religion of West African origin practiced chiefly in Haiti and other Caribbean countries, based on animism, magic, and elements of Roman Catholic ritual, and characterized by belief in a supreme God and a large pantheon of local and tutelary deities, deified ancestors, and saints, who communicate with believers in dreams, trances, and ritual possessions. Also called vodoun .
A practitioner, priest, or priestess of voodoo.
Deceptive or delusive nonsense.
transitive verb
voo·dooed, voo·doo·ing, voo·doos
To place under the influence of a spell or curse; bewitch.
adjective
Of or relating to the beliefs or practices of voodoo.
Based on unrealistic or delusive assumptions: voodoo economics.
Origin of voodoo
Louisiana French
voudou
from
Ewe
vodu
Fon
vodun
---
voodoo

Noun
(countable and uncountable, plural voodoos)
Any of a group of related religious practices found chiefly in and around the Caribbean, particularly in Haiti and Louisiana.
(pejorative) Any sort of magical or irrational approach to a problem.

I want a real explanation, not this statistical voodoo.

(dated) One who practices voodoo; a native sorcerer.
Verb
(third-person singular simple present voodoos, present participle voodooing, simple past and past participle voodooed)
To bewitch someone or something using voodoo

He claimed his neighbor had voodooed him.
Origin
From Louisiana French voudou, from Haitian Creole vodou, from West African, such as Ewe (Dahomey and Togo) vódũ 'deity, idol', Fon vodū 'fetish', vodun, Kwa vodũ.
---