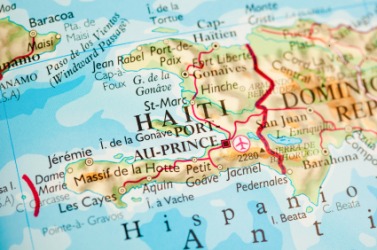 A map showing the country of Haiti.
---
Haiti definition by Webster's New World
country occupying the W portion of the island of Hispaniola, West Indies: 10,700 sq mi (27,713 sq km); pop. 5,054,000; cap. Port-au-Prince
Webster's New World College Dictionary Copyright © 2010 by Wiley Publishing, Inc., Cleveland, Ohio. Used by arrangement with John Wiley & Sons, Inc.
---
Haiti definition by American Heritage Dictionary
A country of the West Indies comprising western Hispaniola and two offshore islands. Originally inhabited by Arawak Indians, the region became a French colony in 1697. Following a slave revolt led by Toussaint L'Ouverture, an independent republic was established in 1804 comprising the entire island of Hispaniola. The eastern part of the island revolted in 1843, forming the Dominican Republic. In the 20th century Haiti was ruled by a series of dictatorships, including the repressive regimes of François Duvalier and his son Jean-Claude, who was ousted in 1986. Jean-Bertrand Aristide became Haiti's first democratically elected president in 1991. Port-au-Prince is the capital and largest city. Population: 8,710,000.
Haiti
The American Heritage® Dictionary of the English Language, 4th edition Copyright © 2010 by Houghton Mifflin Harcourt Publishing Company. Published by Houghton Mifflin Harcourt Publishing Company. All rights reserved.
---
Haiti - Cultural Definition
Republic in the West Indies, on the western third of the island of Hispaniola, which it shares with the Dominican Republic. Its capital and largest city is Port-au-Prince.
With its extremely low average income and literacy rate, Haiti is the poorest nation in the Western Hemisphere.
In 1957, François ("Papa Doc") Duvalier established a dictatorship; at his death in 1971, he was succeeded by his son, Jean Claude ("Baby Doc"), who was finally overthrown in 1986. Since then the government has changed several times through military coups. In 1994, U.S. troops arrived in Haiti in an effort to restore democratic government, however, the political and economic future of Haiti remains uncertain.