eerie

ee·rie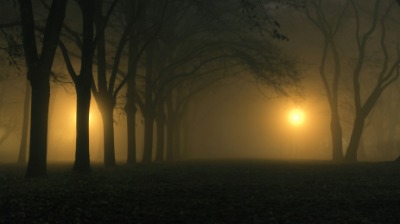 An eerie forest.
adjective
The definition of eerie is someone or something that is mysterious, frightening, spooky and creepy.

An example of eerie is a dark and deserted house.
---
eerie
or ee′ry
adjective
-·rier

,

-·ri·est
Now Rare

timid or frightened; uneasy because of superstitious fear
mysterious, uncanny, or weird, esp. in such a way as to frighten or disturb
Origin of eerie
northern Eng dial and Scottish from Middle English
eri
, filled with dread, probably variant, variety of
erg
, cowardly, timid from Old English
earg
, akin to German
arg
, bad, wicked: for Indo-European base see orchestra
---
eerie
or ee·ry
adjective
ee·ri·er, ee·ri·est
Inspiring inexplicable fear, dread, or uneasiness; strange and frightening. See Synonyms at weird.
Scots Frightened or intimidated by superstition.
Origin of eerie
Middle English
eri
fearful
from
Old English
earg
cowardly
Related Forms:
---
eerie

Adjective
(comparative eerier, superlative eeriest)
---