macabre

ma·ca·bre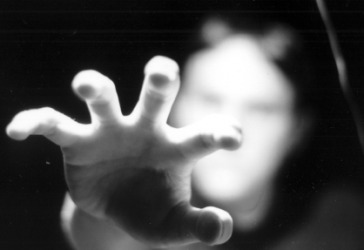 A macabre image.
adjective
The definition of macabre is something gruesome, shocking or horrifying.

An example of macabre is a series of bloody murders committed by a serial killer.
---
macabre
grim and horrible; gruesome; ghastly
Origin of macabre
French from Old French (
danse
)
Macabré
, (dance) of death, probably altered from Medieval Latin (
Chorea
)
Machabaeorum,
literally , dance of the Maccabees (see Maccabees): semantic connection obscure
---
macabre
adjective
Upsetting or horrifying by association with death or injury; gruesome: "When Lucia describes

[the saints']

torments, Jo sees a chorus of macabre dolls, most of them missing parts" ( Nancy Reisman ) See Synonyms at ghastly.
Constituting or including a representation of death.
Origin of macabre
Ultimately from
Old French
(Danse) Macabré
(dance) of death
perhaps from alteration of
Macabe
Maccabee
from
Latin
Maccabaeus
from
Greek
Makkabios
Related Forms:
Word History:
The word
macabre
comes from the Middle French phrase
Danse Macabré,
"the Dance of Death," which was a popular subject of art and literature in the late Middle Ages. In representations of this dance, Death is shown leading people of all classes and walks of life to the same inescapable fate. John Lydgate is the first English author known to mention the
Danse Macabré
in English, in his work
Macabrees daunce
from around 1430. Lydgate's poem purports to be a translation of a French poem describing a group of famous painted murals of the
Danse Macabré
located in a cemetery in Paris. The original meaning of
Macabré
in the French term
Danse Macabré
is not known with any certainty, but it may be an alteration of Old French
Macabe,
"a Maccabee." The Maccabees were Jewish martyrs honored by a feast day in the Western Church. The Second Book of Maccabees, a book of the biblical Apocrypha, tells of the persecutions endured by the Jewish people in the second century BC at the hands of the Seleucid authorities, and it includes a description of a series of gruesome martyrdoms suffered by members of the Maccabees. There was a medieval Christian allegorical procession, called a
chorea maccabaeorum
("dance of the Maccabees") in Latin, that may have included a reenactment of these horrors, and the literary and artistic motif of the
Danse Macabré
may have originated in part from this procession.
---
macabre

Adjective
(comparative more macabre, superlative most macabre)
Origin
From French macabre, whose etymology is uncertain.
Most commonly believed to be from corruption of the biblical name Maccabees; compare French danse macabre, presumably from Latin Chorea Machabaeorum.
Possibly from Spanish macabro, from Arabic مقابر (maqābir, "tombs, cemeteries"), plural of مقبرة (maqbara or maqbura) or of مقبر (maqbar), but the Arabic etymology is rejected by Romance linguists.
Possibly from Amharic "maqaber" for grave, but this etymology remains rejected by most linguistics.
---