adjective
The definition of macabre is something gruesome, shocking or horrifying.

An example of macabre is a series of bloody murders committed by a serial killer.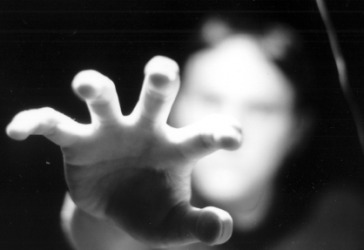 A macabre image.
---
macabre definition by Webster's New World
adjective
grim and horrible; gruesome; ghastly
Origin: French ; from Old French (danse) Macabré, (dance) of death, probably altered ; from Midieval Latin (Chorea) Machabaeorum, literally , dance of the Maccabees (see Maccabees): semantic connection obscure
Webster's New World College Dictionary Copyright © 2010 by Wiley Publishing, Inc., Cleveland, Ohio. Used by arrangement with John Wiley & Sons, Inc.
---
macabre definition by American Heritage Dictionary
adjective
Suggesting the horror of death and decay; gruesome: macabre tales of war and plague in the Middle Ages. See Synonyms at ghastly.
Constituting or including a representation of death.
Origin: Ultimately from Old French (Danse) Macabre, (dance) of death, perhaps alteration of Macabe, Maccabee, from Latin Maccabaeus, from Greek Makkabios.
Related Forms:
Word History:
The word
macabre
is an excellent example of a word formed with reference to a specific context that has long since disappeared for everyone but scholars.
Macabre
is first recorded in the phrase
Macabrees daunce
in a work written around 1430 by John Lydgate.
Macabree
was thought by Lydgate to be the name of a French author, but in fact he misunderstood the Old French phrase
Danse Macabre,
"the Dance of Death," a subject of art and literature. In this dance, Death leads people of all classes and walks of life to the same final end. The
macabre
element may be an alteration of
Macabe
, "a Maccabee." The Maccabees were Jewish martyrs who were honored by a feast throughout the Western Church, and reverence for them was linked to reverence for the dead. Today
macabre
has no connection with the Maccabees and little connection with the Dance of Death, but it still has to do with death.