born

born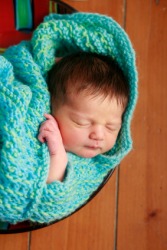 This baby was born recently.
adjective
The definition of born is having been given life.

An example of born is what happens to a baby after his mother is in labor.

Born, when hypenated after a country, means the origin of a person or thing.

An example of –born is a German-born American citizen.

Born is defined as having a skill since you were a small baby.

An example of born is someone having a great athletic skill, seemingly without effort.
---
born
brought into life or being
by birth: used in hyphenated compounds: French-born
having certain qualities or abilities innately, as if from birth; natural: a born athlete
being as specified from birth: nobly born
in all one's born days
Chiefly Dial.
in one's lifetime: used also as an exclamation of surprise
Born
1882-1970; Ger. nuclear physicist, in England (1933-53)
---
born
verb
A past participle of
bear
1
adjective
a. Brought into life by birth.

b. Brought into existence; created: A new nation was born with the revolution.

a. Having from birth a particular quality or talent: a born artist.

b. Destined, or seemingly destined, from birth: a person born to lead.

Resulting or arising: wisdom born of experience.
Native to a particular country, region, or place. Often used in combination: Irish-born; Southern born and bred; Boston-born.
---
born

Adjective
(not comparable)
Well suited to (some behaviour or occupation), as though from birth.
Origin
From the verb to bear.
Verb
(third-person singular simple present borns, present participle bornin, simple past and past participle bornt)
Origin
Dialectal variant of burn.
---