adjective
The definition of born is having been given life.

An example of born is what happens to a baby after his mother is in labor.

Born, when hypenated after a country, means the origin of a person or thing.

An example of –born is a German-born American citizen.

Born is defined as having a skill since you were a small baby.

An example of born is someone having a great athletic skill, seemingly without effort.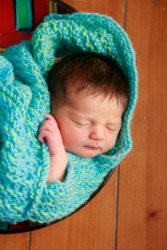 This baby was born recently.
---
born definition by Webster's New World
transitive verb
,
intransitive verb
adjective
brought into life or being
by birth: used in hyphenated compounds: French-born
having certain qualities or abilities innately, as if from birth; natural: a born athlete
being as specified from birth: nobly born

Informal, Dialectal

since birth: in all my born days
Born, Max 1882-1970; Ger. nuclear physicist, in England (1933-53)
Webster's New World College Dictionary Copyright © 2010 by Wiley Publishing, Inc., Cleveland, Ohio. Used by arrangement with John Wiley & Sons, Inc.
---
born definition by American Heritage Dictionary
verb
A past participle of
bear
1
.
adjective
Abbr.
b.
a. Brought into life by birth.

b. Brought into existence; created: A new nation was born with the revolution.

a. Having from birth a particular quality or talent: a born artist.

b. Destined, or seemingly destined, from birth: a person born to lead.

Resulting or arising: wisdom born of experience.
Native to a particular country, region, or place. Often used in combination: Irish-born; Southern born and bred; Boston-born.
, Max 1882-1970.
German-born physicist. He shared a 1954 Nobel Prize for his pioneering work in quantum mechanics.
The American Heritage® Dictionary of the English Language, 4th edition Copyright © 2010 by Houghton Mifflin Harcourt Publishing Company. Published by Houghton Mifflin Harcourt Publishing Company. All rights reserved.
---
born - Phrases/Idioms
born yesterday
Naive or ignorant. Used in negative constructions:
Of course I can use a computer; I wasn't born yesterday.
born
Variant of bear
transitive verb
bore, borne or born, bearing
to hold and take along; carry; transport
to hold in the mind: to bear a secret

to possess as a part, characteristic, attribute, etc.; have or show: the letter bore his signature
to give birth to: the passive past participle in this sense is born when by does not follow
to bring forth; produce or yield: fruit-bearing trees, coal-bearing strata
to support or hold up; sustain
to sustain the burden of; take on; take care of: to bear the cost

to undergo successfully; withstand; endure: her work won't bear scrutiny
to put up with; tolerate: she can't bear him

to call for; require: his actions bear watching
to carry or conduct (oneself)
to carry over or hold (a sentiment): to bear a grudge
to bring and tell (a message, tales, etc.)
to move or push as if carrying: the crowd bore us along
to give, offer, or supply: to bear witness
Origin: Middle English beren ; from Old English beran ; from Indo-European base an unverified form bher-, to carry, bring from source Classical Latin ferre, Classical Greek pherein, Sanskrit bharati, (he) bears
intransitive verb
to be productive: the tree bears well

to lie in a given direction: the lighthouse bears due east
to point or be aimed toward: with on or upon: artillery deployed to bear on the fort
to move in a given direction: bear right at the corner

to have bearing (on); have a relation: his story bears on the crime
to tolerate; put up patiently (with)
to be oppressive; weigh: grief bears heavily on her