session

ses·sion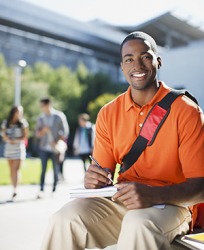 Isaiah is taking classes during the summer session so he can finish his undergraduate degree sooner.
noun
The definition of a session is a meeting, series of meetings or school term.

An example of a session is jury members meeting to agree on a verdict.
An example of a session is the time when students are attending classes at school.
---
session
the sitting together or meeting of a group; assembly, as of a court, legislature, council, etc.
a continuous, day-to-day series of such meetings
the term or period of such a meeting or meetings

a school term
a day when school is open for classes

the governing body of a Presbyterian church, consisting of the minister and elders
a period of activity of any kind: a session with the dentist, a session on a computer
Origin of session
Middle English from Classical Latin
sessio
from
sedere
, to sit
in session
officially meeting; assembled
---
session
noun
a. A meeting of a legislative or judicial body for the purpose of transacting business.

b. A series of such meetings.

c. The term or duration of time that is taken by such a series of meetings.

The part of a year or of a day during which a school holds classes.
A period of time devoted to a specific activity: a recording session at a music studio; a login session that was disrupted by a power outage.
Origin of session
Middle English
from
Old French
from
Latin
sessiō
sessiōn-
act of sitting
from
sessus
past participle of
sedēre
to sit
; see
sed-
in Indo-European roots.
Related Forms:
---
session

Origin
From Old French session, from Latin sessiō ("a sitting"), from sedeō ("sit").
---
session - Computer Definition

Referring to a period of time during which there is a logical association, i.e., communication, between two or more stations, terminals, or systems. A session may be established through a log-on procedure and terminated by a log-off procedure. A network administrator might limit the duration of a session, at the expiration of which time the session will be timed-out, or involuntarily terminated, in order to ensure that network and system resources are shared fairly among the universe of active users. A session also may time out if no activity is detected for a predetermined period of time.
---
(1) In communications, the active connection between a user and a computer or between two computers.
(2) Using an application program (period between starting up and quitting).
(3) One or more tracks of audio or data that were recorded at one time on a Compact Disc (CD). See multisession.
---
session - Legal Definition
n
The number of hours within a day that a given body is performing its duties; a meeting of a court or a legislative body for the purpose of performing its business.
---