fiery
[fī′ər ē, fī′rē]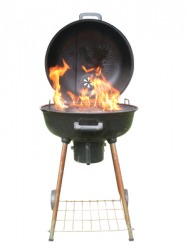 A fiery grill.
adjective
The definition of fiery is to a strong personality, something related to heat, or to an impassioned action or speech.

An example of fiery is a bright red color.
An example of fiery a person who gets mad at the drop of a hat.
An example of fiery is a passionate speech.
---
fiery
---
fiery
adjective
fier·i·er
,
fier·i·est
a. Consisting of or containing fire.

b. Burning or glowing.

c. Using or effected with fire.

d. Easily ignited; flammable.

Having the color of fire; brightly red: fiery hair; a fiery sunset.

a. Torridly hot.

b. Feverishly hot and flushed: fiery cheeks.

c. Being in an inflamed, usually painful condition: a fiery boil.

a. Easily excited or emotionally volatile; tempestuous: a fiery temper.

b. Charged with emotion; spirited: a fiery denunciation.
Origin of fiery
Middle English
firi
, from
fir
,
fire
; see
fire
.
Related Forms:
---
fiery
Adjective
(comparative more fiery or fierier, superlative most fiery or fieriest)
Origin
Middle English firi, from fir ("fire").
---