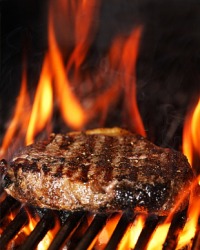 This grill is flaming.
---
flaming definition by Webster's New World
adjective
burning with flames; blazing
like a flame in brilliance or heat: flaming colors
intensely emotional; ardent; passionate
startling or flagrant
Webster's New World College Dictionary Copyright © 2010 by Wiley Publishing, Inc., Cleveland, Ohio. Used by arrangement with John Wiley & Sons, Inc.
---
flaming definition by American Heritage Dictionary
adjective
On fire; ablaze.
Resembling a flame in brilliance, color, or form: flaming autumn leaves.
Intense; ardent: flaming passions.
Informal Used as an intensive: a flaming liberal.
Related Forms:
flaming
Variant of flame
noun
the burning gas or vapor of a fire, seen as a flickering light of various colors; blaze
a tongue of light rising from a fire
the state of burning with a blaze of light: to burst into flame

a thing like a flame in heat, brilliance, etc.
brilliance or bright coloring

an intense emotion; strong passion

Informal

a personal attack, harsh criticism, etc., specif. when communicated by e-mail
a sweetheart
Origin: Middle English ; from Old French flamme (; from Classical Latin flamma) and amp; flambe ; from Classical Latin flammula, diminutive of flamma ; from base of flagrare, to burn: see flagrant
intransitive verb
flamed, flaming
to burn with a blaze of light; burst into flame
to light up with color as if blazing; grow red or hot: a face flaming with anger
to show intense emotion; become very excited
Origin: ME flammen < OFr flamer < L flammare
transitive verb
Now Rare

to burn or heat with flame
to treat with flame

Informal

to attack or harshly criticize, as by e-mail

Cooking

to douse with alcoholic liquor and set afire: flame the roast with brandy