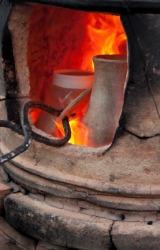 Firing pots in a kiln.
---
firing definition by Webster's New World
noun
the application of heat to harden or glaze pottery
the stoking of a fire, furnace, etc.
the shooting of firearms, etc.
fuel for a fire
☆ the scorching of plants, as from heat, drought, or disease
Webster's New World College Dictionary Copyright © 2010 by Wiley Publishing, Inc., Cleveland, Ohio. Used by arrangement with John Wiley & Sons, Inc.
---
firing definition by American Heritage Dictionary
noun
The process of applying fire or heat, as in the hardening or glazing of ceramics.
Fuel for fires.
The act or an instance of dismissing someone from a job.
firing
Variant of fire
noun
the active principle of burning, characterized by the heat and light of combustion
fuel burning in a furnace, fireplace, etc.
an instance of burning that is undesired, uncontrolled, and destructive: a forest fire
any preparation that will burn and make a brilliant display: Greek fire

anything like fire, as in heat or brilliance
firelike brilliance

death, torture, or trial by burning
extreme suffering or distress that tries one's endurance; tribulation or ordeal
a feverish or inflamed condition of the body
strong feeling; excitement; ardor: a speech full of fire
vivid imagination

a discharge of firearms or artillery; shooting
anything like this in speed and continuity of action: a fire of criticism
Origin: Middle English fyr ; from Old English akin to German feuer ; from Indo-European base an unverified form pewōr- from source Classical Greek pyra, pyre, Czech pýř, glowing embers
transitive verb
fired, firing
to apply fire to; make burn; ignite
to supply with fuel; tend the fire of: to fire a furnace
to bake (bricks, pottery, etc.) in a kiln
to dry by heat
to make bright or illuminate, as if by fire

to animate or inspire
to excite, stimulate, or inflame: often with up

to shoot or discharge (a gun, bullet, etc.)
to make explode by igniting

to hurl or direct with force and suddenness: fire a rock, fire questions
☆

Origin: pun on discharge

to dismiss from a position; discharge
Origin: ME firen < OE fyrian
intransitive verb
to start burning; flame
to tend a fire
to become excited or aroused
to react in a specified way to firing in a kiln: a glaze that fires bright blue
to shoot a firearm
to discharge a projectile: the gun fired
to become yellow prematurely, as corn or grain