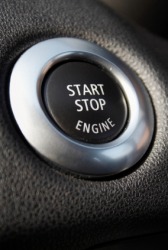 The ignition switch in an automobile.
noun
The definition of an ignition is a system or device that sets something on fire.

An example of an ignition is what turns your car's engine on when you turn the key.
---
ignition
a setting on fire or catching on fire
the means by which a thing is ignited
in an internal-combustion engine,

the igniting of the explosive mixture in the cylinder
the system for doing this; often, specif., its key-operated switch

Chem.

the heating of a compound or mixture to the point of complete combustion, complete chemical change, or complete removal of volatile material
Origin of ignition
Modern Latin (Paracelsus)
ignitio
from Classical Latin
ignitus
: see ignite
designating certain parts of an engine causing ignition
---
ignition
noun
The act or process of igniting something: the ignition of the fuel in a piston.

a. An electrical system, typically powered by a battery or magneto, that provides the spark to ignite the fuel mixture in an internal-combustion engine.

b. A switch that activates this system.
---
ignition

---