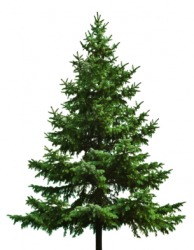 A fir tree.
noun
The definition of a fir is an evergreen tree with cones and flattened needles.

An example of a fir is a Christmas tree.
---
fir
any of a genus (Abies) of cone-bearing evergreen trees of the pine family, having flattened needles and upright cones whose scales fall off at maturity
any of various other coniferous trees, as the Douglas fir
the wood of any of these trees
Origin of fir
Middle English
firre
from Old English
fyrh
, akin to German
föhre
from Indo-European base an unverified form
perkwus
, name of the tree, oak from source Classical Latin
quercus
, oak
---
fir
noun
a. Any of various evergreen trees of the genus Abies, having linear flattened needles and erect cones with deciduous scales.

b. Any of several similar or related trees, such as the Douglas fir.

The wood of any these trees.
Origin of fir
Middle English
firre
probably of Scandinavian origin
; see
perkwu-
in Indo-European roots.
Related Forms:
fir
white fir
Abies concolor
FIR
abbreviation
far-infrared radiation
---
fir

Noun
(countable and uncountable, plural firs)
(chiefly countable, UK) Any conifer of a variety of genera, especially a Scots pine, Pinus sylvestris or a true fir (Abies).
(uncountable) Wood of such trees.
Origin
From Middle English firre, from either Old Norse fýri (as in fýriskógr 'fir-wood') or Old English fyrh, furh (as in furhwudu 'pinewood'), from Proto-Germanic *furhijǭ (compare Low German Fuhr, German Föhre 'pine', Danish fyr), from Proto-Indo-European *pŕ̥kʷeh₂ (compare Italian (Trentino) porca 'fir'), from *pérkʷus 'oak' (compare Latin quercus 'oak', Albanian shpardh, shparr 'Italian oak', Punjabi ਪਰਗਾਇ (pargāī, "holm oak, Quercus baloot")). Related to frith.
---
fir - Computer Definition
(1) (Far InfraRed) See infrared wavelengths.
(2) (Fast InfraRed) A high-speed IrDA protocol with data rates up to 4 Mpbs. See IrDA.
---