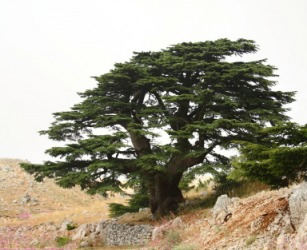 A cedar tree growing on a hilltop.
---
cedar definition by Webster's New World
noun
any of a genus (Cedrus) of widespreading coniferous trees of the pine family, having clusters of needlelike leaves, cones, and durable wood with a characteristic fragrance, as the (C. libani)
any of various similar trees of other families, as certain kinds of juniper or thuja
Spanish cedar
the wood of any of these
Origin: Middle English and amp; Old French cedre ; from Classical Latin cedrus ; from Classical Greek kedros ; from uncertain or unknown; perhaps Indo-European base an unverified form ked-, to smoke, be sooty
Webster's New World College Dictionary Copyright © 2010 by Wiley Publishing, Inc., Cleveland, Ohio. Used by arrangement with John Wiley & Sons, Inc.
---
cedar definition by American Heritage Dictionary
noun
Any of several Old World evergreen coniferous trees of the genus Cedrus, having stiff needles on short shoots and large erect seed cones with broad deciduous scales.
Any of several other evergreen coniferous trees or shrubs, such as the Alaska cedar, incense cedar, or red cedar.
The durable aromatic wood of any of these plants, especially that of the red cedar, often used to make chests.
Origin: Middle English cedre, from Old French, from Latin cedrus, from Greek kedros.