adjective
The definition of farming is for agricultural purposes.

An example of farming used as an adjective is in the phrase "farming money," which means money that a family uses for their livestock-raising ventures.
noun
Farming is defined as the business of raising livestock and/or plants.

An example of farming is raising dairy cows.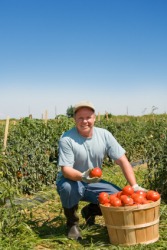 A man engaged in farming.
---
farming
adjective
of or for agriculture
noun
the business of operating a farm ( & )
the letting out to farm of land, revenue, etc.
---
farming
Noun
(uncountable)
The business of cultivating land, raising stocks etc.
Adjective
(not comparable)
Pertaining to the agricultural business.
Raising livestock or fish.
Verb
Present participle of farm.
---
farming - Computer Definition
---