eccentric

ec·cen·tric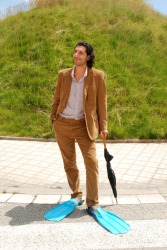 This man's dress might be called eccentric.
adjective
The definition of eccentric is something that is not exactly circular.

An example of eccentric is the orbit of Mercury.

Eccentric is defined as someone or something that is different or behaves in an unconventional way.

An example of eccentric is an adult wearing footy pajamas to a formal dinner.
---
eccentric
not having the same center, as two circles one inside the other
not having the axis exactly in the center; off-center: an eccentric wheel
not exactly circular in shape or motion
deviating from the norm, as in conduct; odd; unconventional
Origin of eccentric
Middle English
eccentrik
from Medieval Latin
eccentricus
from Late Latin
eccentros
, out of the center, eccentric from Classical Greek
ekkentros
from
ek-
, out of (see ex-) +
kentron
, center
a disk set off center on a shaft and revolving inside a strap that is attached to one end of a rod, thereby converting the circular motion of the shaft into back-and-forth motion of the rod
an odd or unconventional person
---
eccentric
adjective
Departing from a recognized, conventional, or established norm or pattern. See Synonyms at strange.
Deviating from a circular form or path, as in an elliptical orbit.

a. Not having the same center: eccentric circles.

b. Having the axis located elsewhere than at the geometric center.
noun
One that deviates markedly from an established norm, especially a person of odd or unconventional behavior.
Physics A disk or wheel having its axis of revolution displaced from its center so that it is capable of imparting reciprocating motion.
Origin of eccentric
Middle English
eccentrik
planetary orbit of which the earth is not at the center
from
Medieval Latin
eccentricus
not having the same center
from
Greek
ekkentros
ek-
out of
; see
ecto-
.
kentron
center
(
from
kentein
to prick
; see
kent-
in Indo-European roots.)
Related Forms:
eccentric
eccentric circles with the center of each circle marked
---
eccentric

Adjective
(comparative more eccentric, superlative most eccentric)
not at or in the centre.
not perfectly circular.

an eccentric or elliptical orbit

having a different center; not concentric.
(of a person) deviating from the norm; behaving unexpectedly or differently.

"The recluse has become really eccentric over the years."

(physiology) (of a motion) against or in the opposite direction of contraction of a muscle. (E.g. flexion of the lower arm (bending of the elbow joint) by an external force while contracting the triceps and other elbow extensor muscles to control that movement; opening of the jaw while flexing the masseter).

Antonym: concentric. Both concentric and eccentric are collectively referred to as isotonic, the antonym of which is isometric.

Not having the same goal or motive.
Origin
From Middle French excentrique, from Medieval Latin excentricus, from Ancient Greek ἔκκεντρος (ekkentros, "not having the earth as the center of an orbit"), from ἐκ (ek, "out") + κέντρον (kentron, "point")
---
eccentric - Computer Definition

Elliptical or off-center, rather than perfectly circular with a precisely centered axis. Eccentricities in the core of an optical fiber can cause signal attenuation and distortion.
A euphemism for someone who is crazy and rich, as opposed to being just plain crazy like the rest of us.
---