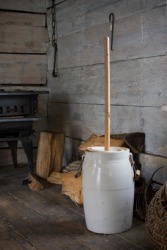 An antique churn for making butter.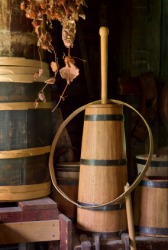 An antique churn for making butter.
noun
The definition of a churn is a device for making butter.

An example of a churn is what the Amish use to make butter.
verb
To churn is defined as to stir or shake milk or cream with intense movements in the process of making butter, to stir up and agitate, or to produce something at a rapid and regular rate.

An example of to churn is for a boat to create waves while moving quickly through the water .
An example of to churn is for one artist to create five large works of art per week.
---
churn
a container or contrivance in which milk or cream is beaten, stirred, or shaken to form butter
the occurrence, ratio, or amount of turnover of investments, customers, commodities, etc.
Origin of churn
Middle English
chirne
from Old English
cyrne
; akin to
cyrnel,
kernel: with reference, refer to grainy appearance of churned cream
to stir, beat, or shake (milk or cream) in a churn
to make (butter) in a churn
to stir up vigorously
to produce (foam, etc.) by stirring vigorously
to cause a rapid turnover of (a client's investments) so that the broker can claim commissions
Origin of churn
ME
chirnen
< the n.
to use a churn in making butter
to move or stir as if in a churn: many ideas churning in his brain
churn out
to produce regularly and copiously, esp. in a mechanical or uncreative way
---
churn
noun
A vessel or device in which cream or milk is agitated to separate the oily globules from the caseous and serous parts, used to make butter.
Turbulence or agitation: "the violent churn of a long waterfall" ( Catherine Reid )
verb
churned, churn·ing, churns
verb
transitive
a. To agitate or stir (milk or cream) in order to make butter.

b. To make by the agitation of milk or cream: churn butter.

To agitate vigorously or turn over repeatedly: wind churning up the piles of leaves. See Synonyms at agitate.
To buy and sell (a client's securities) frequently, especially in order to generate commissions.
verb
intransitive
To make butter by operating a device that agitates cream or milk.
To be turbulent or agitated: waves churning in the storm; so angry it made my stomach churn.
To move by agitating water or by means of a pumping action: The boat churned through the narrows.
Phrasal Verbs:
churn out
To produce in an abundant and regular manner:
churns out four novels a year.
Origin of churn
Middle English
chirne
from
Old English
cyrn, cyrin
Related Forms:
---
churn

Noun
(plural churns)
A vessel used for churning.

a butter churn
---
churn - Computer Definition
---
churn - Investment & Finance Definition
The rate of subscriber or customer turnover. If a company has a high rate of churn, it means the company may attract a large number of customers but will typically lose them at a rapid rate. The churn rate measures the number of customers that discontinue service in a typical month, and often is expressed as a percentage of a company's average subscriber base for the time period. The term often is used in conjunction with subscribers to wireless telephone companies.
---