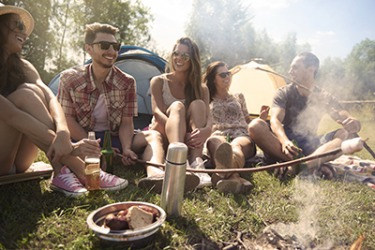 The group of friends roasted marshmallows over the smoldering fire.
verb
Smolder is defined as to smoke and burn slowly without flames, or to hold in feelings of anger or hate.

An example of smolder is a hot wood ember left over from a fire burning to ashes.
An example of smolder is someone not expressing anger and letting it intensify inside of them.
---
smolder
to burn and smoke without flame; be consumed by slow combustion
to exist in a suppressed state or with activity stifled
to have or show feelings of suppressed anger, hate, passion, etc.
Origin of smolder
Middle English
smoldren
from Germanic an unverified form
smul-
: for Indo-European base see smell
the act or condition of smoldering
---
smolder
also smoul·der
intransitive verb
smol·dered, smol·der·ing, smol·ders,
also
smoul·dered
or
smoul·der·ing
or
smoul·ders
To burn with little smoke and no flame.
To exist in a suppressed state: Revolution smoldered in the masses.
To show signs of repressed anger or hatred.
noun
Thick smoke resulting from a slow fire.
Origin of smolder
Middle English
smolderen
to suffocate
from
smolder
smoke
probably alteration of
smorther
from
Old English
smorian
to smoke
---
smolder

Verb
(third-person singular simple present smolders, present participle smoldering, simple past and past participle smoldered)
(intransitive, US) To burn with no flame and little smoke.

The remains of the bonfire were left to smolder for hours.
---