you

you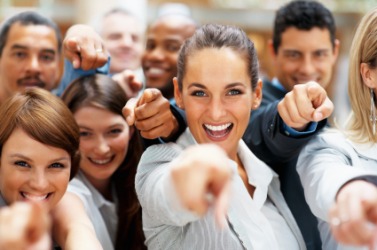 They're all pointing at you!
pronoun
You is a pronoun used to describe someone that is being spoken to, or to describe a hypothetical person or group of people.

An example of you is a word that could be used when complementing a friend.
An example of you is when all people are advised to be careful on Halloween.
---
you
pronoun
pl.
the person to whom one is speaking or writing: personal pronoun in the second person (sing. & pl.): you is the nominative and objective form (sing. & pl.), yours the possessive (sing. & pl.), and yourself (sing.) and yourselves (pl.) the reflexive and intensive; your is the possessive pronominal adjective
any person: equivalent in sense to indefinite one: you can never be sure!
Origin of you
Middle English
you, ou, eow
from Old English
eow,
dative and accusative plural of
ge,
ye, akin to Dutch
u
from Indo-European base an unverified form
iw-,
you from source Sanskrit
yuvám,
you
---
you
pron.
Used to refer to the one or ones being addressed: I'll lend you the book. You shouldn't work so hard. y'all you-uns
Used to refer to an indefinitely specified person; one: You can't win them all.
Nonstandard Used reflexively as the indirect object of a verb: You might want to get you another pair of shoes. me
Origin of you
Middle English
from
Old English
ēow
dative and accusative of
gē
ye, you
; see
yu-
in Indo-European roots.
---
you

---