i

-i-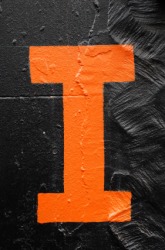 The letter I.
noun
I is the ninth letter in the English alphabet.

An example of i is the first letter in the word "index."

I is defined as an incomplete grade for work in a class.

An example of I is the letter on a report card for a class that has not been finished.

The definition of i is the roman numeral for one.

An example of i is ii meaning two.
pronoun
I is defined as the person who is speaking or telling the story.

An example of I is someone answering that they are here.
---
i
or I
noun
pl.
the ninth letter of the English alphabet: via Latin from the Greek iota, a modification of the Phoenician (Semitic yodh, a hand): this letter, first dotted in the 11th cent., was not distinguished from j until the 17th cent.
any of the speech sounds that this letter represents, as, in English, the vowel (i) of pick, (?) of pique, or (?) of pike, or, when it is unstressed, (?) as in sanity, or the semivowel (y) in boil
a type or impression for i or I
the ninth in a sequence or group
an object shaped like or I
of i or I
ninth in a sequence or group
shaped like or I
a Roman numeral for 1

Astron.

the inclination of a planet's orbit to some reference plane, as the ecliptic
interest
intransitive
island(s)
isle(s)
, the square root of negative one: usually printed in italic type
I
the Roman numeral for 1: placed after another Roman numeral, it adds one unit (e.g., VI = 6), and placed before a greater Roman numeral, it subtracts one unit (e.g., IV = 4)

Educ.

a grade indicating incompletion of assigned work; an incomplete
I
pronoun
pl.
we
the person speaking or writing: personal pronoun in the first person singular: I is the nominative form, me the objective, mine the possessive, and myself the reflexive and intensive; my is the possessive pronominal adjective
Origin of I
Middle English
i, ich, ih
from Old English
ic
, akin to German
ich
, Gothic
ik
from Indo-European base an unverified form
?gom
, origin, originally probably neuter noun meaning "(my) presence here" from source Classical Latin
ego
, Classical Greek
eg?
, Sanskrit
ahám
noun
pl.
I's
the ego; the self
I
Imperator

Dentistry

incisor
Independent
interstate
Island(s)
Isle(s)

Physics

moment of inertia
I
Physics

electric current

Chem.

iodine
i-
-i-
infix forming compound words: a connective vowel originally used for combining Latin elements only, but now used freely
---
i
or I
noun
pl.
i's,
or
I's
also
is
or
Is
The ninth letter of the modern English alphabet.
Any of the speech sounds represented by the letter i.
The ninth in a series.
Something shaped like the letter I.
souvenir postcard, Ohio landmarks
Printed in 1937 by Curt Teich & Company of Chicago, Illinois, this postcard celebrates Ohio's architectural attractions.
I
pron.
Used to refer to oneself as speaker or writer.
noun
pl.
I's
The self; the ego.
Origin of I
Middle English
from
Old English
ic
; see
eg
in Indo-European roots.
Usage Note: Traditional grammar requires the nominative form of the pronoun following the verb be: It is I (not me ), That must be they (not them ), and so forth. Nearly everyone finds this rule difficult to follow. Even if everyone could follow it, in informal contexts the nominative pronoun often sounds pompous and even ridiculous, especially when the verb is contracted. Would anyone ever say It's we ? But constructions like It is me have been condemned in the classroom and in writing handbooks for so long that there seems little likelihood that they will ever be entirely acceptable in formal writing. • The traditional rule creates additional problems when the pronoun following be also functions as the object of a verb or preposition in a relative clause, as in It is not (them/they) that we have in mind, where the plural pronoun serves as both the predicate of is and the object of have. Adherence to this rule is waning. In our 1988 survey, 67 percent of the Usage Panel preferred the nominative they in the previous example. This percentage fell to 45 just five years later. In our 2009 survey, just 37 percent found they to be acceptable in this sentence. Meanwhile, the percent that accepted objective them rose steadily from 33 in 1988 to 39 1993 to 55 in 2009. Writers who dislike the construction can easily avoid it by saying They are not the ones we have in mind, We have someone else in mind, and so on. • When pronouns joined by a conjunction occur as the object of a preposition such as between, according to, or like, many people use the nominative form where the traditional grammatical rule would require the objective; they say between you and I rather than between you and me, and so forth. Some language commentators see this construction as a hypercorrection, in which speakers who have been taught to say It is I instead of It is me assume that correctness also requires between you and I in place of between you and me. This explanation of the tendency cannot be the whole story, since the phrase between you and I occurs in Shakespeare, roughly three centuries before the prescriptive rule condemning this practice was written. But the between you and I construction is nonetheless widely regarded as a mark of ignorance and is best avoided in formal contexts. • There is also a widespread tendency to use the objective form when a pronoun is used as a subject together with a noun in apposition, as in Us engineers were left without technical support. In formal speech or writing the nominative we would be preferable here. But when the pronoun itself appears in apposition to a subject noun phrase, the use of the nominative form may sound pedantic in a sentence such as The remaining members of the admissions committee, namely we, will have to meet next week. Writers who are uncomfortable about using the objective us here should rewrite the sentence to avoid the difficulty. See Usage Note at be. See Usage Note at but. See Usage Note at we.
I
I
abbreviation
incomplete
Independent
inside
interstate
isospin
i.
abbreviation
Economics interest
intransitive
I.
-i-
Used as a connective to join word elements: setiform.
Origin of -i-
Middle English
from
Old French
from
Latin
stem vowel of nouns and adjectives used in combination
---
i

---
i - Computer Definition

The symbol for current intensity, measured in amperes. See also current.
---
(1) A prefix for technical terms that may connote Apple's iDevices (see definition #3 below), the Internet or information.
(2) See IBM i.
(3) A brand prefix on Apple's mobile products (iPod, iPhone, iPad), as well as third-party accessories; for example, Apple docks are called "i-docks." Sometimes, the "i" is used creatively such as "i-whatever" when referring to Apple devices. See iDevice.
---