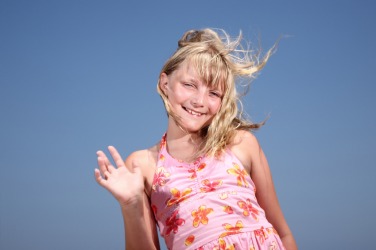 A little girl says, "hi".
interjection
Hi is defined as a standard greeting and is short for "hello."

An example of "hi" is what you say when you see someone.
---
hi
Origin of hi
Middle English
hy
, variant of
hei
, hey
HI
---
hi
interjection
Informal
Used to express greeting.
hey
HI
abbreviation
Hawaii
high intensity
humidity index
---
hi

Adjective
Informal spelling of high, often hyphenated.

Get hi-quality videos here!
Next, set the burner to hi.
Noun
hi (no attested plural)
"Hi" or similar greeting.
Origin
American English (first recorded reference is to speech of a Kansas Indian), originally to attract attention, probably a variant of Middle English hy, hey (circa 1475) also an exclamation to call attention.
Abbreviations
Hawaii, a state of the United States of America.
---