it

It.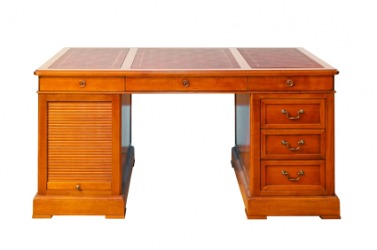 It is a desk.
pronoun
The word "it" is used to represent an inanimate thing.

An example of it is a desk.
---
it
pl.

they

the animal or thing previously mentioned or under discussion: neuter personal pronoun in the third person singular: it is the nominative and objective form, its the possessive, and itself the reflexive and intensive; its is the possessive pronominal adjective
it is also used as:

the subject of an impersonal verb without reference to agent: it is snowing
the grammatical subject of a clause of which the actual subject is another clause or phrase following: it is clear that he wants to go
an object of indefinite sense in certain idiomatic expressions [to lord it over someone]; often, specif., an unpleasant consequence: now you're in for it; let him have it
the antecedent of a relative pronoun from which it is separated by a predicate: it is your support that we want
a term of reference to something indefinite but understood, as the state of affairs: it's all right—I didn't hurt myself

Informal

an emphatic predicate pronoun referring to the person, thing, situation, etc. which is considered ultimate, final, or perfect: zero hour is here: this is it!
Origin of it
Middle English
hit, it
from Old English
hit
, akin to Dutch
het
, Gothic
hita
, this: Indo-European base as in he: basic sense "this one"
the player in a game who must do some essential thing, as the one in a game of tag who must try to catch another

Informal

any of various attractive personal qualities, as charm, charisma, or sex appeal
do it
Informal
to engage in sexual intercourse
with it
Slang
alert, informed, or hip
It
IT
---
it
pron.
Used to refer to that one previously mentioned. Used of a nonhuman entity; an animate being whose sex is unspecified, unknown, or irrelevant; a group of objects or individuals; an action; or an abstraction: polished the table until it shone; couldn't find out who it was; opened the meeting by calling it to order.
Used as the subject of an impersonal verb: It is snowing.

a. Used as an anticipatory subject or object: Is it certain that they will win? We found it hard to believe that the car was that old.

b. Used as an anticipatory subject to emphasize a term that is not itself a subject: It was on Friday that all the snow fell.

Used to refer to a general condition or state of affairs: She couldn't stand it.
Used to refer to a crucial situation or culmination: This is it—the rivals are finally face to face. That's it! I won't tolerate any more foolishness.
Informal Used to refer to something that is the best, the most desirable, or without equal: He thinks he's it. That steak was really it!
Games Used to designate a player, as in tag, who attempts to find or catch the other players.
noun
An animal that has been neutered: The cat is an it.
Origin of it
Middle English
from
Old English
hit
; see
ko-
in Indo-European roots.
Our Living Language
"I told Anse it likely won't be no need."
This quotation from William Faulkner's
As I Lay Dying
demonstrates a use of
it
that occurs in some vernacular varieties of American speech.
It
is used instead of Standard English
there
when
there
functions as a so-called existential—that is, when
there
indicates the mere existence of something rather than a physical location, as in
It was nothing I could do.
Existential
it
is hardly a recent innovation—it appears in Middle English; in Elizabethan English, as in Marlowe's
Edward II: "Cousin, it is no dealing with him now"
; and in modern American literature as well. Although most British and American varieties no longer have this historical feature, it still occurs in some Southern-based dialects and in African American Vernacular English. • In some American vernacular dialects, particularly in the South (including the Appalachian and Ozark Mountains), speakers may pronounce
it
as
hit
in stressed positions, especially at the beginning of a sentence, as in
Hit's cold out here!
This pronunciation is called a
relic dialect feature
because it represents the retention of an older English form. In fact,
hit
is the original form of the third person singular neuter pronoun and thus can be traced to the beginnings of the Old English period (c. 449-1100). Early in the history of English, speakers began to drop the
h
from
hit,
particularly in unaccented positions, as in
I saw it yesterday.
Gradually,
h
also came to be lost in accented positions, although
hit
persisted in socially prestigious speech well into the Elizabethan period. Some relatively isolated dialects in Great Britain and the United States have retained
h,
since linguistic innovations such as the dropping of
h
are often slow to reach isolated areas. But even in such places,
h
tends to be retained only in accented words. Thus, we might hear
Hit's the one I want
side by side with
I took it back to the store.
Nowadays,
hit
is fading even in the most isolated dialect communities and occurs primarily among older speakers. • This loss of
h
reflects a longstanding tendency among speakers of English to omit
h
's in unaccented words, particularly pronouns, such as
'er
and
'im
for
her
and
him,
as in
I told 'er to meet me outside.
This kind of
h
-loss is widespread in casual speech today, even though it is not reflected in spelling.
IT
abbreviation
information technology
It.
---
it

Pronoun
(subjective and objective it, reflexive and intensive itself, possessive adjective and noun its)
The third-person singular personal pronoun used to refer to an inanimate object, to an inanimate thing with no or unknown sex or gender.

Put it over there.
Take each day as it comes.

The third-person singular personal pronoun used to refer to an animate entity of unknown gender.

She took the baby and held it in her arms.

Used to refer to oneself when identifying oneself, often on the phone, but not limited to this situation.

It's me. John.

The impersonal pronoun, used without referent as the subject of an impersonal verb or statement. (known as the dummy pronoun or weather it)

It is nearly 10 o'clock.
It's very cold today.
It's lonely without you.

The impersonal pronoun, used as a placeholder for a delayed subject, or less commonly, object. (known as the dummy pronoun or, more formally in linguistics, a syntactic expletive)

It is easy to see how she would think that.
I find it odd that you would say that.
He saw to it that everyone would vote for him.
See inflection for other personal pronouns.
Adjective
(not comparable)
(colloquial) most fashionable.
Noun
(plural 'its)
Eye dialect spelling of hit (in the senses "punch", "kill", etc).
Verb
(third-person singular simple present 'its, present participle 'ittin', simple past and past participle 'it)
Eye dialect spelling of hit (in the senses "punch", "kill", etc).
Origin
A representation of the pronunciation of hit by a speaker whose dialect lacks the voiceless glottal fricative or transition (IPA: [h]). Not to be confused with hit, which is a dialectal variant of the pronoun it.
Abbreviations
Country code top-level domains
Active:  .ac  .ad  .ae  .af  .ag  .ai  .al  .am  .an  .ao  .aq  .ar  .as  .at  .au  .aw  .ax  .az  .ba  .bb  .bd  .be  .bf  .bg  .bh  .bi  .bj  .bm  .bn  .bo  .br  .bs  .bt  .bw  .by  .bz  .ca  .cc  .cd  .cf  .cg  .ch  .ci  .ck  .cl  .cm  .cn  .co  .cr  .cu  .cv  .cx  .cy  .cz  .de  .dj  .dk  .dm  .do  .dz  .ec  .ee  .eg  .er  .es  .et  .eu  .fi  .fj  .fk  .fm  .fo  .fr  .ga  .gd  .ge  .gf  .gg  .gh  .gi  .gl  .gm  .gn  .gp  .gq  .gr  .gs  .gt  .gu  .gw  .gy  .hk  .hm  .hn  .hr  .ht  .hu  .id  .ie  .il  .im  .in  .io  .iq  .ir  .is  .it  .je  .jm  .jo  .jp  .ke  .kg  .kh  .ki  .km  .kn  .kp  .kr  .kw  .ky  .kz  .la  .lb  .lc  .li  .lk  .lr  .ls  .lt  .lu  .lv  .ly  .ma  .mc  .md  .me  .mg  .mh  .mk  .ml  .mm  .mn  .mo  .mp  .mq  .mr  .ms  .mt  .mu  .mv  .mw  .mx  .my  .mz  .na  .nc  .ne  .nf  .ng  .ni  .nl  .no  .np  .nr  .nu  .nz  .om  .pa  .pe  .pf  .pg  .ph  .pk  .pl  .pm  .pn  .pr  .ps  .pt  .pw  .py  .qa  .re  .ro  .rs  .ru  .rw  .sa  .sb  .sc  .sd  .se  .sg  .sh  .si  .sk  .sl  .sm  .sn  .sr  .st  .su  .sv  .sy  .sz  .tc  .td  .tf  .tg  .th  .tj  .tk  .tl  .tm  .tn  .to  .tr  .tt  .tv  .tw  .tz  .ua  .ug  .uk  .us  .uy  .uz  .va  .vc  .ve  .vg  .vi  .vn  .vu  .wf  .ws  .ye  .yt  .za  .zm  .zw
Symbol
(music) Italian augmented sixth chord
---
it - Computer Definition

The traditional, formal term for a data processing department. The contemporary term is Information Services (IS).
---
(Information Technology) Processing information by computer, which encompasses "information management" and "computer science." IT is also the latest moniker for the industry as a whole, and the term became popular in the 1990s. It actually took 40 years before the industry settled on what to call itself. First it was "electronic data processing" (EDP), followed by "management information systems" (MIS) and "information systems" (IS) and finally "information technology" (IT). Networking Too? The term sometimes includes and sometimes excludes telecommunications and networking. However, all information that is created and disseminated by computers is moved via networks and common carriers. Therefore, it would seem that information technology naturally embraces everything that delivers information to a user. See information system and enterprise networking.
---