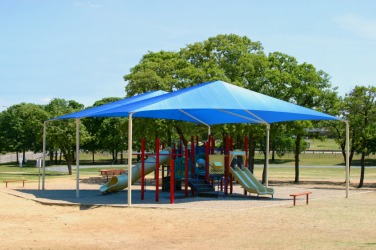 A shady playground.
adjective
The definition of shady is providing darkness and coolness from the sun, or of questionable character.

An example of a shady place is under an awning.
An example of a shady person is someone who constantly lies.
---
shady
adjective
shad′i·er

,

shad′i·est
giving shade
shaded, as from the sun; full of shade
of darkness, secrecy, or concealment

Informal

of questionable character or honesty
on the shady side of
beyond (a given age); older than
---
shady
adjective
shad·i·er, shad·i·est
Full of shade; shaded: found a cool, shady spot under some trees. See Synonyms at dark.
Casting shade: a large, shady elm.
Of dubious character, morality, or legality; questionable: "men who could indulge in any shady deal in downtown offices and still pose as beneficent angels … on the golf course" ( Louis Auchincloss )
Related Forms:
---
shady

Adjective
(comparative shadier, superlative shadiest)
Abounding in shades.
Causing shade.
Overspread with shade; sheltered from the glare of light or sultry heat.
(slang) Not trustworthy; Unfit to be seen or known.

He is a shady character.
---