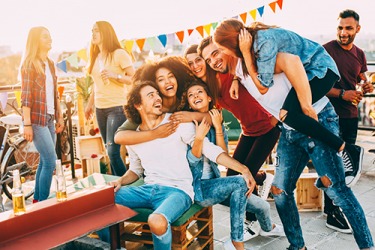 Even though the raucous rooftop party got a little out of hand, nothing was damaged.
adjective
The definition of raucous is loud or disorderly.

An example of raucous is a party at college with lots of drinking.
---
raucous
hoarse; rough-sounding: a raucous shout
loud and rowdy: a raucous party
Origin of raucous
Classical Latin
raucus
from Indo-European echoic base an unverified form
reu-,
to give hoarse cries, mutter from source Classical Latin
rumor,
Old English
reon,
to lament
---
raucous
adjective
Rough-sounding and harsh: raucous laughter.
Boisterous and disorderly: "a drunken and raucous party for his bachelor friends" ( Louis Auchincloss )
Origin of raucous
From
Latin
raucus
Related Forms:
rau′cous·ness rau′ci·ty

noun
---
raucous

Adjective
(comparative more raucous, superlative most raucous)
Disorderly and boisterous.

Acts of vandalism were committed by a raucous gang of drunkards.
Origin
Latin raucus (hoarse, husky, raucous)
---