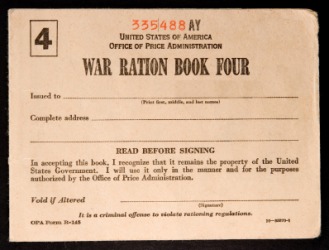 American World War II ration book.
noun
The definition of a ration is a fixed amount of something that is provided on a regular basis, or that is the limit of how much you are permitted to have.

Food provided to soldiers is an example of a ration.
The amount of food you are allowed during a war or other time of scarcity is an example of a ration.
verb
To ration is to limit the amount of something that a person or animal can have.

When you only let your dog have a cup of food a day, this is an example of a situation where you ration your dog's food.
---
ration
a fixed portion; share; allowance
a fixed allowance or allotment of food or provisions, esp. a fixed daily allowance, as for a soldier
[pl.] food or food supply, as for soldiers, explorers, etc.
Origin of ration
Middle French from Medieval Latin
ratio,
ration from L, a reckoning: see reason
to supply with a ration or rations
to distribute (food, clothing, etc.) in rations, as in times of scarcity
---
ration
noun
A fixed portion, especially an amount of food allotted to persons in military service or to civilians in times of scarcity.
rations Food issued or available to members of a group.
transitive verb
ra·tioned, ra·tion·ing, ra·tions
To supply with rations.

a. To distribute as rations: rationed out flour and sugar.

b.

To restrict to limited allotments, as during wartime:

ration gasoline.

See Synonyms at

distribute

.
Origin of ration
French
from
Latin
ratiō
ratiōn-
calculation
; see
ratio
.
---
ration

Noun
(plural rations)
A portion designated to a person or group.
Verb
(third-person singular simple present rations, present participle rationing, simple past and past participle rationed)
To supply with a ration; to limit (someone) to a specific allowance of something.

We rationed ourselves to three sips of water a day until we were rescued.

To portion out (especially during a shortage of supply); to limit access to.

By the third day on the raft, we had to ration our water.

To restrict (an activity etc.)

Our present health care system is rationed only to those who can afford it because of unnecessary high cost, lack of insurance coverage by 47 million people, and exorbitant prescription prices.
---