noun
The definition of a ration is a fixed amount of something that is provided on a regular basis, or that is the limit of how much you are permitted to have.

Food provided to soldiers is an example of a ration.
The amount of food you are allowed during a war or other time of scarcity is an example of a ration.
verb
To ration is to limit the amount of something that a person or animal can have.

When you only let your dog have a cup of food a day, this is an example of a situation where you ration your dog's food.
YourDictionary definition and usage example. Copyright © 2013 by LoveToKnow Corp.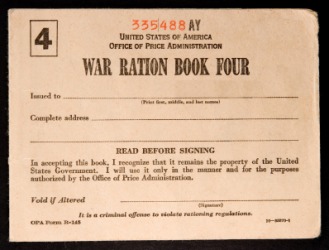 American World War II ration book.
Licensed from iStockPhoto
---
noun
a fixed portion; share; allowance
a fixed allowance or allotment of food or provisions, esp. a fixed daily allowance, as for a soldier
food or food supply, as for soldiers, explorers, etc.
Origin: MFr from Midieval Latin ratio, ration from L, a reckoning: see reason
transitive verb
to supply with a ration or rations
to distribute (food, clothing, etc.) in rations, as in times of scarcity
Webster's New World College Dictionary
Copyright © 2010 by Wiley Publishing, Inc., Cleveland, Ohio.
Used by arrangement with John Wiley & Sons, Inc.
---
noun
A fixed portion, especially an amount of food allotted to persons in military service or to civilians in times of scarcity.
rations Food issued or available to members of a group.
transitive verb
ra·tioned
,
ra·tion·ing
,
ra·tions
To supply with rations.
To distribute as rations: rationed out flour and sugar. See Synonyms at distribute.
To restrict to limited allotments, as during wartime.
Origin: French, from Latin ratiō, ratiōn-, calculation; see ratio.
The American Heritage® Dictionary of the English Language
, 4th edition Copyright © 2010 by Houghton Mifflin Harcourt Publishing Company. Published by Houghton Mifflin Harcourt Publishing Company. All rights reserved.