incapable

in·ca·pa·ble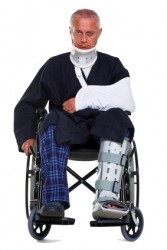 This man is incapable of walking.
adjective
The definition of incapable is not having the ability, strength or legal qualification to do something.

An example of incapable is a person with a broken leg who can't hike; incapable hiker.
---
incapable
not capable; specif.,
lacking the necessary ability, competence, strength, etc.
not legally qualified or eligible
Origin of incapable
Late Latin
incapabilis
incapable of
not allowing or admitting; not able to accept or experience: incapable of change
lacking the ability or fitness for: incapable of subtlety
not legally qualified for
---
incapable
adjective
a. Lacking the necessary ability, capacity, or power: incapable of carrying a tune; incapable of love.

b. Unable to perform adequately; incompetent: an incapable administrator.

Not susceptible to action or treatment: a unique feat, incapable of duplication.
Law

a. Not meeting the physical and mental requirements imposed by law for the performance of a particular task.

b. Not meeting the requirements necessary for proper legal functioning: a contract provision incapable of being enforced.
Related Forms:
in·ca′pa·bil′i·ty in·ca′pa·ble·ness

noun
---
incapable

---