noun
The definition of an incantation is a series of words used in a chant, in magic or used to cast a spell.

The words chanted by a witch to catch a spell are an example of an incantation.
YourDictionary definition and usage example. Copyright © 2013 by LoveToKnow Corp.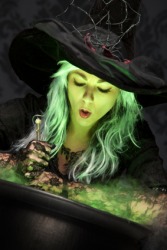 A witch mutters an incantation.
Licensed from iStockPhoto
---
noun
the chanting of words or formulas that are believed to cast a spell or perform other magic
words or a formula so chanted
Origin: Middle English incantacion from Old French incantation from Late Latin incantatio from past participle of Classical Latin incantare from in- (intens.) plush cantare: see chant
Webster's New World College Dictionary
Copyright © 2010 by Wiley Publishing, Inc., Cleveland, Ohio.
Used by arrangement with John Wiley & Sons, Inc.
---
noun
Ritual recitation of verbal charms or spells to produce a magic effect.

a. A formula used in ritual recitation; a verbal charm or spell.

b. A conventionalized utterance repeated without thought or aptness; a formula: the pious incantations of the administration.
Origin: Middle English incantacioun, from Old French incantation, from Late Latin incantātiō, incantātiōn-, spell, from Latin incantātus, past participle of incantāre, to enchant; see enchant.
Related Forms:
inˌcan·taˈtion·al

adjective
in·canˈta·toˌry

adjective
The American Heritage® Dictionary of the English Language
, 4th edition Copyright © 2010 by Houghton Mifflin Harcourt Publishing Company. Published by Houghton Mifflin Harcourt Publishing Company. All rights reserved.