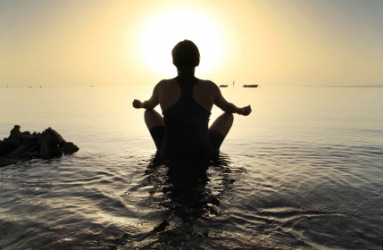 A mantra is sometimes used for meditation.
noun
The definition of a mantra is a repeated word or phrase, prayer or chant.

An example of a mantra is a team saying "We will win" over and over again.
An example of a mantra is the Buddhist chant "om."
---
mantra
Hinduism

a hymn or portion of text, esp. from the Veda, chanted or intoned as an incantation or prayer
a syllable, word, etc. repeated during yogic meditation
a word or slogan often repeated, as to provide inspiration: the store manager's mantra was "always maximize sales"
Origin of mantra
Sans, akin to
mantár-,
thinker: see mandarin
---
mantra
noun
Hinduism A sacred verbal formula repeated in prayer, meditation, or incantation, such as an invocation of a god, a magic spell, or a syllable or portion of scripture containing mystical potentialities.

a. A commonly repeated word or phrase, especially in advocacy or for motivation: "The mantra of solid-waste management has long been reduce, reuse, recycle" ( Susan Freinkel )

b. A concept or fact that is mentioned repeatedly, especially in advocacy: "Another mantra of housing bulls in America is that national average house prices have never fallen for a full year since modern statistics began" ( Economist )
Origin of mantra
Sanskrit
mantrah
; see
men-
1
in Indo-European roots.
Related Forms:
---
mantra

Noun
(plural mantras)
(Hinduism.) The hymn portions of the Vedas; any passage of these used as a prayer.
A phrase repeated to assist concentration during meditation, originally in Hinduism.
(General.) A slogan or phrase often repeated.
Origin
From Sanskrit मन्त्र (mantra). In the sense of "hymn portion of the Vedas" in English since 1808; in the sense of "word or phrase used in meditation" since 1956.
---