claw

claw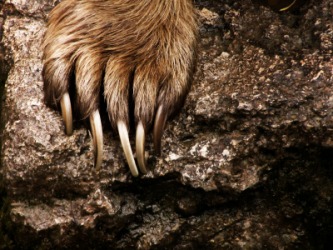 A close up of the claws on a bears paw.
noun
The definition of a claw is a sharp, pointed nail or anything resembling a claw.

An example of a claw is the nail of a hawk.
An example of a claw is the large appendage of a crab.
An example of a claw is the gripping end of a hammer.
verb
To claw is to grab or tear using the nails on a hand or foot.

An example of claw is a dog trying to climb up its owner leg instead of going into a bath.
---
claw
a sharp, hooked or curved horny structure, or nail, on the foot of a bird and of many reptiles and mammals
a foot with such structures at its end
the pincers, or chela, of a lobster, crab, scorpion, etc., or on the limb of certain insects
anything resembling or regarded as a claw: the claw of a hammer
Origin of claw
Middle English
claue
from Old English
clawu
from Indo-European an unverified form
g(e)l-eu-
from base an unverified form
gel-,
to make round, clench (as a fist) from source cling, clamp, climb
to scratch, clutch, pull, climb, dig, or tear with or as with claws
claw back
to recover (money paid out previously), as by means of a clawback provision
Origin of claw
extended from general sense, "to get something back through great effort"
---
claw
noun
A sharp, curved, horny structure at the end of a toe of a vertebrate animal.

a. A chela or similar pincerlike structure on the end of a limb of a crustacean or arachnid.

b. One of one or more small curved structures at the tip of an appendage of an invertebrate, especially an insect or other arthropod.

c. A limb terminating in such a structure.

Something, such as the cleft end of a hammerhead, that resembles a claw.
Botany A narrowed, stalklike basal part of a petal, sepal, or bract.
tr. & intr.v.
clawed, claw·ing, claws
To scratch, dig, tear, or pull with the claws or fingernails.
Origin of claw
Middle English
clawe
from
Old English
clawu
Related Forms:
---
claw

Noun
(plural claws)
A foot equipped with such.
The pincer (chela) of a crustacean or other arthropod.
A mechanical device resembling a claw, used for gripping or lifting.
(botany) A slender appendage or process, formed like a claw, such as the base of petals of the pink.
Origin
From Middle English clawe, from Old English clawu, from Proto-Germanic *klawō. Compare West Frisian klau, Dutch klauw, German Klaue, Danish klo.
Verb
(third-person singular simple present claws, present participle clawing, simple past and past participle clawed)
To scratch or to tear at.
To use the claws to seize, to grip.
To use the claws to climb.
(juggling) To perform a claw catch.
To move with one's fingertips.
Holland

Rich men they claw, soothe up, and flatter; the poor they contemn and despise.
Origin
From Old English clawian, from clawu.
---