paw

paw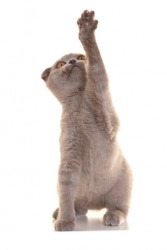 A cat raises her paw.
noun
Paw is defined as the hand or the foot of a four-legged animal.

An example of a paw is a cat's foot.
verb
Paw means to touch or hit something, often in a clumsy or rough way.

An example of paw is for a cat to keep hitting a stream of water with her foot.
---
paw
the foot of a four-footed animal having claws

Informal

a hand
Origin of paw
Middle English
paue
from Old French
poue
from Frankish an unverified form
pauta,
a paw ( from pre-Celt an unverified form
pauta
) from source German
pfote
to touch, dig, hit, strike out (at), etc. with the paws or feet: a horse pawing the air

to handle (something) clumsily or roughly: she pawed angrily through the papers on her desk
to caress (someone) in a rough or overly familiar way
---
paw
noun
The foot of an animal, especially a quadruped, that has claws or nails.
Informal A human hand, especially a large clumsy one: "Lennie dabbled his big paw in the water" ( John Steinbeck )
verb
pawed, paw·ing, paws
verb
transitive
To feel or strike with the paw or paws.
To strike or scrape with a beating motion: The bull pawed the ground before charging.

a. To touch or handle clumsily or roughly.

b.

To feel or touch (another) in an annoying or unwanted way. See Synonyms at

touch

.
verb
intransitive
To scrape the ground with the forefeet: The horse pawed restlessly.
To handle someone or something clumsily, rudely, or with too much familiarity: Don't paw at everything you see.
Origin of paw
Middle English
pawe
from
Old French
powe
Related Forms:
---
paw

Origin
The word probably has an origin in baby talk: see "˜pa'.
Origin
Middle English pawe, from Old French poue, poe, from Old Low Franconian *pōta (compare Dutch poot, Low German Pote, German Pfote), from *pōton 'to put, stick, plant' (compare Dutch poten 'to plant'), from Proto-Germanic *putōną (compare Old English potian 'to push', pȳtan 'to put out, poke out', Icelandic pota 'to stick', Albanian putër 'paw'), Ancient Greek "πους". More at put.
Verb
(third-person singular simple present paws, present participle pawing, simple past and past participle pawed)
(of an animal) To go through something (such as a garbage can) with paws
(of an animal) To gently push on something with a paw.
(of an animal) To draw the forefoot along the ground; to beat or scrape with the forefoot.

(by extension, of a human) To touch someone (with the hands) in a sexual way.
(by extension, of a human) To clumsily dig through something.
Origin
From the noun paw, meaning an animal's hand or foot.
---