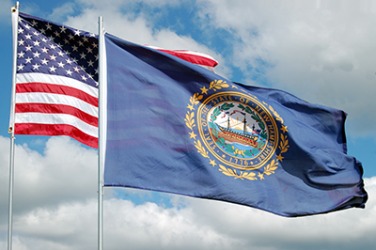 The slogan for the state of New Hampshire is 'Live Free or Die'.
noun
The definition of a slogan is a distinctive or identifying phrase often used in advertising or to represent a product.

An example of a slogan is an advertising phrase associated with a particular company or product, such as the Pepsi Generation.
---
slogan
Historical

a cry used by Scottish Highland and Irish clans in battle or as an assembly signal
a catchword or rallying motto distinctly associated with a political party or other group
a catchphrase used to advertise a product
Origin of slogan
Gaelic
sluggh-ghairm
from
sluagh
, a host +
gairm
, a call
---
slogan
noun
A phrase expressing the aims or nature of an enterprise, organization, or candidate; a motto.
A phrase used repeatedly, as in advertising or promotion: "all the slogans and shibboleths coined out of the ideals of the peoples for the uses of imperialism" ( Margaret Sanger )
A battle cry of a Scottish clan.
Origin of slogan
Alteration of
Scots
slogorne
battle cry
from
Gaelic
sluagh-ghairm
sluagh
host
; see
slew
1
.
gairm
shout
---
slogan

Slogan mark
political slogan
---