personable

per·son·a·ble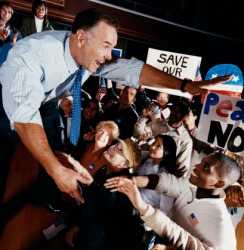 The politician is very popular because he has a friendly and personable disposition.
adjective
The definition of personable is someone who is friendly, outgoing and easily able to talk to people.

An example of personable is a politician or celebrity who moves easily around the room, talking to everyone.
---
personable
having a pleasing appearance and personality; attractive
Origin of personable
Middle English
personabilis
---
personable
adjective
Pleasantly sociable.
Pleasing in appearance; attractive.
Related Forms:
---
personable

Adjective
(comparative more personable, superlative most personable)
(of a person) Having a pleasing appearance or manner; attractive; handsome; friendly; amiable.
(law) Enabled to maintain pleas in court.

Having capacity to take anything granted.
Origin
From Middle English personable, personabil, equivalent to person +"Ž -able. Compare Medieval Latin personabilis ("personal"), found in a late 13th century British source. The Middle French personable ("remarkable, important"), doesn't appear until 1528.
---