insane

in·sane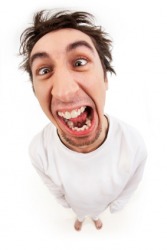 A man exhibits insane behavior.
adjective
Insane is defined as very foolish or senseless behavior.

An example of insane is a person who goes on an expensive vacation after just losing a job.

The definition of insane is someone who acts or speaks strangely because their brain isn't working correctly.

An example of insane is a person who goes shopping without any pants on.
---
insane
not sane; mentally ill or deranged; demented; mad: now a nontechnical term except in legal usage
of or for insane people: an insane asylum

Informal

very foolish, excessive, fantastic, etc.
Origin of insane
Classical Latin
insanus
---
insane
adjective
a. Of, exhibiting, or afflicted with mental derangement. Not used in psychiatric diagnosis.

b. Characteristic of or associated with persons who are mentally deranged: an insane laugh; insane babbling.

c. Intended for use by such persons: an insane asylum.

Having been determined to be in a condition that meets the legal definition of insanity.
Immoderate; wild: insane jealousy.
Very foolish; absurd: took insane risks behind the wheel.
Origin of insane
Latin
īnsānus
in-
not
; see
in-
1
.
sānus
sane, healthy
Related Forms:
---
insane

---