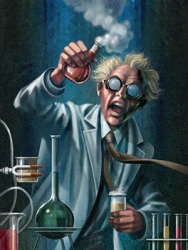 The demented scientist created a formula to turn his control subject into a monster.
adjective
The definition of demented is an insane person or someone with a loss of mental function.

An example of demented is the character Dr. Frankenstein from the novel Frankenstein by Mary Shelley.
---
demented
mentally deranged; insane; mad
Origin of demented
past participle of dement
---
demented
adjective
Suffering from dementia.
Informal Crazy or foolish.
Related Forms:
---
demented

Adjective
(comparative more demented, superlative most demented)
Verb
simple past tense and past participle of dement
---