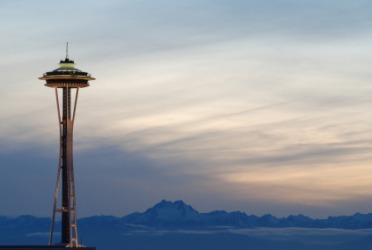 The Space Needle is an example of something that is eminent.
adjective
The definition of eminent is someone or something that rises above or is distinguished or outstanding.

An example of eminent is the Space Needle in Seattle.
An example of eminent is an actor's performance in a play that was far better than the performances by the other actors.
---
eminent
rising above other things or places; high; lofty
projecting; prominent; protruding
standing high by comparison with others, as in rank or achievement; renowned; exalted; distinguished
outstanding; remarkable; noteworthy: a man of eminent courage
Origin of eminent
Middle English from Classical Latin
eminens
: see eminence
---
eminent
adjective
Well-known and respected, especially for achievement in a particular field: an eminent historian. See Synonyms at famous.

a. Outstanding or remarkable: handled the situation with eminent skill.

b. Being such in full measure; complete; absolute: "the eminent sanity, good-humor and judgement you always display in pushing matters you have at heart" ( Theodore Roosevelt )

Towering or standing out above others; prominent: an eminent peak.
Origin of eminent
Middle English
from
Latin
ēminēns
ēminent-
present participle of
ēminēre
to stand out
ē-, ex-
ex-
-minēre
to jut out
; see
men-
2
in Indo-European roots.
Related Forms:
---
eminent

Origin
From Middle French éminent, from Latin present participle eminens, eminentis, from verb ēmineō ("I project, I protrude"), from ex- ("out of, from") + mineō, related to mons (English mount). Compare with imminent. Unrelated to emanate, which is instead from mānō ("I flow").
See also:
éminent
---