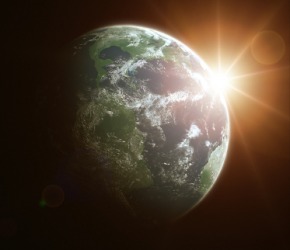 The Earth's rotation around the sun is a constant.
adjective
The definition of constant is something that doesn't change or something that continues or remains steady.

An example of constant is the earth's rotation around the sun.
---
constant
not changing; remaining the same; specif.,

remaining firm in purpose; resolute
remaining steady in affections or loyalties; faithful
remaining free from variation or change; regular; stable

going on all the time; continual; persistent: constant interruptions
Origin of constant
Middle English and Old French
constaunt
from Classical Latin
constans
: see constancy
anything that does not change or vary

a quantity that always has the same value

in full

absolute constant

a quantity, vector, etc. assumed to have one value throughout a particular discussion or investigation

in full

arbitrary constant
Constant
(Henri Benjamin Constant de Rebecque) 1767-1830; Fr. writer & politician, born in Switzerland
---
constant
adjective
Continually occurring; persistent: constant surveillance. See Synonyms at continual.
Regularly recurring: plagued by constant interruptions.
Unchanging in nature, value, or extent; invariable: a constant wind speed.
Steadfast in purpose, loyalty, or affection; faithful. See Synonyms at faithful.
noun
Something that is unchanging or invariable.

a. A quantity assumed to have a fixed value in a specified mathematical context.

b. An experimental or theoretical condition, factor, or quantity that does not vary or that is regarded as invariant in specified circumstances.
Origin of constant
Middle English
from
Old French
from
Latin
cōnstāns
cōnstant-
present participle of
cōnstāre
to stand firm
com-
intensive pref.
; see
com-
.
stāre
to stand
; see
stā-
in Indo-European roots.
Related Forms:
---
constant

Adjective
(comparative more constant, superlative most constant)
Noun
(plural constants)
That which is permanent or invariable.
(algebra) A quantity that remains at a fixed value throughout a given discussion.
(sciences) Any property of an experiment, determined numerically, that does not change under given circumstances.
(computing) An identifier that is bound to an invariant value; a fixed value given a name to aid in readability of source code.
Origin
From Old French, from Latin constantem, from constare ("to stand firm").
---
constant - Computer Definition
In programming, a fixed value in a program. Minimum and maximum amounts, dates, prices, headlines and error messages are examples.
---