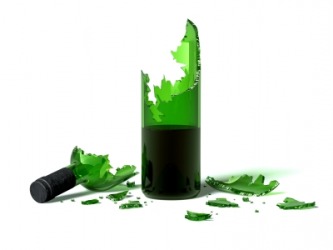 Someone broke this wine bottle.
adjective
The definition of broke is having little or no money.

An example of someone who is broke is a person in bankruptcy.
verb
Broke is defined as to have destroyed, hurt or ripped something in the past.

An example of broke was to have smashed a glass vase yesterday.
---
broke
having little or no ready money
bankrupt
go broke
Informal
become penniless or bankrupt
go for broke
Slang
to risk everything on an uncertain undertaking
---
broke
---
broke

Adjective
(comparative more broke, superlative most broke)
(informal) Broken.
Verb
simple past tense of break
(archaic or poetic) past participle of break

(nautical) Demoted, deprived of a commission.

He was broke and rendered unfit to serve His Majesty at sea.
---
broke - Computer Definition
---