amenable

a·me·na·ble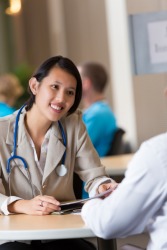 She appears to be an amenable person.
adjective
The definition of amenable is someone who is agreeable or willing to be persuaded.

An example of someone who may be amenable is a newly hired intern who is eager to do a good job and be well-liked.
---
amenable
responsible or answerable
open to persuasion; agreeable or responsive
Origin of amenable
Anglo-French from Old French
amener
, to bring about, lead in from
a-
, to +
mener
, to lead from Classical Latin
minare
, to drive (animals) from
minari
, to threaten: see menace
amenable to
able to be controlled or affected by: an illness amenable to treatment
readily influenced or persuaded by: amenable to suggestion
that can be tested by: amenable to the laws of physics
---
amenable
adjective
a. Willing to accept a suggestion or submit to authority: "a class that is all the more amenable to control for living perpetually under the threat of deportation" ( Amitav Ghosh )

b. Ready to consent; agreeable: Are you amenable to a change in schedule?

Responsible to higher authority; accountable: amenable to the law. See Synonyms at responsible.
Susceptible or open, as to testing or criticism: "The phenomenon of mind … is much more complex, though also more amenable to scientific investigation, than anyone suspected" ( Michael D. Lemonick )
Origin of amenable
Probably alteration of
Middle English
menable
from
Old French
from
mener
to lead
from
Latin
mināre
to drive
from
minārī
to threaten
from
minae
threats
; see
men-
2
in Indo-European roots.
Related Forms:
a·me′na·bil′i·ty a·me′na·ble·ness

noun
---
amenable

Adjective
(comparative more amenable, superlative most amenable)
Willing to respond to persuasion or suggestions.
(mathematics, of a group) Being a locally compact topological group carrying a kind of averaging operation on bounded functions that is invariant under translation by group elements.
Origin
From French as if *amenable, from amener ("to bring or lead, fetch in or to"), from a- + mener ("to lead, conduct"), from Late Latin minare ("to drive"), Latin deponent minari ("to threaten, menace").
---
amenable - Legal Definition
adj
Legally answerable; required to respond; responsible; subject to.
Capable of being tested, adjudged, or brought to judgment.
Susceptible to; disposed toward; capable of being persuaded.
---