pliant

pli·ant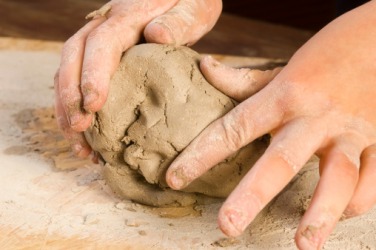 Clay needs to be worked with warm hands to make it pliant enough to form into a shape.
adjective
The definition of pliant is something pliable or that can be molded and shaped.

A lump of clay is an example of something that would be described as pliant.
---
pliant
easily bent; pliable
adaptable or compliant
Origin of pliant
Middle English
plyande
from MFr, present participle of
plier:
see pliable
---
pliant
adjective
Easily bent or flexed; pliable. See Synonyms at malleable.
Easily altered or modified to fit conditions; adaptable: a pliant poetic form.
Yielding readily to influence or domination; compliant: a pliant colonial regime.
Origin of pliant
Middle English
from
Old French
present participle of
plier
to fold, bend
from
Latin
plicāre
; see
plek-
in Indo-European roots.
Related Forms:
pli′an·cy pli′ant·ness

noun
---
pliant

Adjective
(comparative more pliant, superlative most pliant)
Capable of plying or bending; readily yielding to force or pressure without breaking; flexible; pliable; lithe; limber; plastic; as, a pliant thread; pliant wax.
(figuratively) Easily influenced for good or evil; tractable; as, a pliant heart.
Origin
From Old French pliant.
---