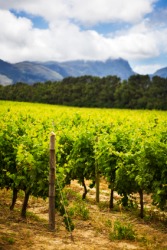 Rows of grape vines.
noun
The definition of a vine is a plant with long stems that grow along the ground or climb a support structure.

An example of a vine is a grape plant.
An example of a vine is honeysuckle.
---
vine
any plant with a long, thin stem that grows along the ground or climbs a wall or other support by means of tendrils, etc.
the stem of such a plant

grapevine (sense )
Origin of vine
Middle English from Old French
vine
from Classical Latin
vinea,
vine from
vineus,
pertaining to wine from
vinum,
wine, akin to Classical Greek
oin?,
vine,
oinos,
wine, probably a loanword from a pre-IE language of the Pontus region (from source Classical Hebrew (language)
yayin
)
---
vine
noun
a. A weak-stemmed plant that derives its support from climbing, twining, or creeping along a surface.

b. The stem of such a plant.

a. A grapevine.

b. Grapevines considered as a group: products of the vine.
intransitive verb
vined, vin·ing, vines
To form or develop like a vine.
Origin of vine
Middle English
from
Old French
from
Latin
vīnea
from feminine of
vīneus
of wine
from
vīnum
wine
---
vine

Noun
(plural vines)
any plant of the genus Vitis
(US) by extension, any similar climbing or trailing plant
Origin
From Old French vigne, from Latin vīnea.
---
vine - Computer Definition
A mobile video sharing app that takes six-second videos for posting on Facebook and Twitter. Vine was founded in 2012 and acquired by Twitter that same year. The first app debuted in 2013 for the iPhone and iPod touch. In late 2016, Twitter announced that Vine would be shut down. See Twitter.
---