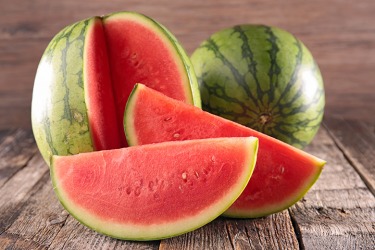 Watermelon
A watermelon is defined as a large sweet fruit with bright pink flesh and a firm green rind.
Sentence example: We couldn't have a seed-spitting contest, because Grandma bought the seedless variety of watermelon on 4th of July.
---
watermelon
a large, round or oblong, edible fruit with a hard, green rind and sweet, juicy, pink or red pulp containing many seeds
the widely cultivated, tropical African trailing vine (Citrullus lanatus) of the gourd family, on which it grows
Origin of watermelon
water + melon: from its abundant watery juice
---
watermelon
noun
A vine (Citrullus lanatus) native to Africa, widely cultivated for its large edible fruit.
The fruit of this plant, having a hard green rind and sweet watery pink or reddish flesh.
---
watermelon

Noun
(plural watermelons)
A plant of the species Citrullus lanatus, bearing a melon-like fruit.
The fruit of the watermelon plant, having a green rind and watery flesh that is bright red when ripe and contains black pips.
(pejorative, slang) An environmentalist with socialist leanings (from the similarity to the fruit, being green on the outside, and red on the inside).
---