noun
The definition of ivy is an evergreen climbing plant.

An example of ivy is poison ivy.
An example of ivy is ornamental ivy that climbs up the side of buildings and walls.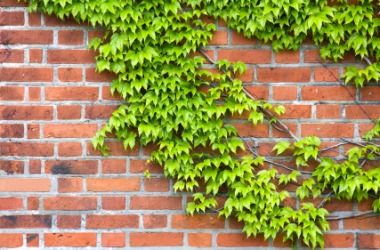 Ivy on a brick wall.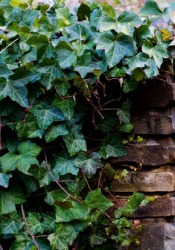 English ivy growing on a stone wall.
---
Ivy definition by Webster's New World
noun
pl.
ivies
a climbing vine (Hedera helix) of the ginseng family, with a woody stem and evergreen leaves, grown as ornamentation on buildings, walls, etc.
any of various similar climbing plants, as ground ivy or poison ivy
Origin: Middle English ivi ; from Old English ifig, ifegn, akin to German efeu (OHG ebawi, ebah): origin, originally sense probably "climber"
adjective
☆ of or characteristic of the Ivy League
noun
a feminine name
Origin: ; from ivy
Webster's New World College Dictionary Copyright © 2010 by Wiley Publishing, Inc., Cleveland, Ohio. Used by arrangement with John Wiley & Sons, Inc.
---
Ivy definition by American Heritage Dictionary
noun
pl.
i·vies
Any of several woody, climbing or trailing evergreen plants of the genus Hedera native to the Old World, especially H. helix, having palmately lobed leaves, root-bearing young stems, and small green flowers grouped in umbels.
Ivy Informal A university in the Ivy League. Often used in the plural: Cornell is one of the Ivies.
Origin: Middle English ivi, from Old English īfig.
Ivy
Variant of ivy
noun
pl.
ivies
a climbing vine (Hedera helix) of the ginseng family, with a woody stem and evergreen leaves, grown as ornamentation on buildings, walls, etc.
any of various similar climbing plants, as ground ivy or poison ivy
Origin: Middle English ivi ; from Old English ifig, ifegn, akin to German efeu (OHG ebawi, ebah): origin, originally sense probably "climber"
adjective
☆ of or characteristic of the Ivy League