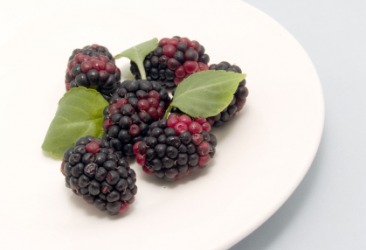 A plate of blackberries.
noun
The definition of a blackberry is an edible purple-black fruit that has a sweet taste or the brand name of a mobile telephone considered a smartphone and famous for the ability to easily receive email on the go.

An example of a blackberry is a purple/black fruit.
An example of a BlackBerry is a smartphone.
---
blackberry
noun
pl.
-·ries
the fleshy, purple or black, edible aggregate fruit of various brambles (genus Rubus) of the rose family
a bush or vine bearing this fruit
---
blackberry
noun
Any of various shrubs of the genus Rubus in the rose family, having usually prickly stems, compound leaves, and an aggregate fruit of small drupelets.
The fruit of these plants, usually black, purple, or deep red.
---
blackberry

---
blackberry - Computer Definition
A family of smartphones from BlackBerry, Waterloo, Ontario (www.blackberry.com), formerly Research In Motion (RIM). BlackBerrys pioneered the smartphone industry and were the first cellphones widely used in companies for e-mail, Web browsing, calendar and instant messaging. Third-party applications are available through BlackBerry's online app store (see BlackBerry App World). It Started with Mobile E-Mail In 1999, the text-only BlackBerry was the first wireless device that synchronized with the Microsoft Exchange corporate mail server. In 2002, voice and data (GSM and GPRS) were added in the model 5810, making it the first BlackBerry smartphone. Two years later, a million people were using them, and in 2009, with many users on their second, third and fourth models, the 50 millionth BlackBerry was sold. At the end of 2012, there were approximately 79 million subscribers. BlackBerry Competitors In the late 2000s, iPhones and Androids offered touchscreens, slick software and most significantly, e-mail synchronization, BlackBerry's claim to fame. As iPhone/Android sales skyrocketed, BlackBerry users switched, and by the time innovative BlackBerrys were introduced, it was too late. By 2013, BlackBerry sales were less than 1% of the market, and the company launched a turnaround plan that focused on selling mobile security software to enterprises and deriving royalties from its many patents. In 2015, it offered its first Android-only BlackBerry (see BlackBerry Priv). See BlackBerry 10, BlackBerry Enterprise Server, BlackBerry Storm, CrackBerry, BlackBerry Messenger and smartphone.
---