E-mail
[ē′māl′]
noun
The definition of an e-mail is a message sent from one computer to another over the Internet, using a set webmail server address.

An example of an e-mail is a happy birthday message a person sends from their Yahoo account to their mom at her Gmail account.
verb
E-mail is defined as to send a message to someone using their person webmail address.

An example of to e-mail is sending your mom a birthday message to her personal web address at gmail.com.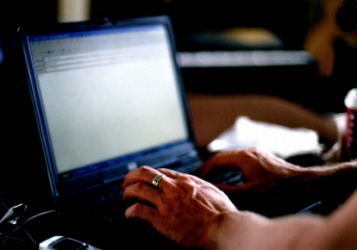 A person writing an e-mail.
---
E-mail
noun
a system for sending messages, as by telephone line, from one computer or terminal to a receiving computer or terminal and for storing such messages
a message or messages sent or stored in such a system
Origin of e-mail
; from e(lectronic) + mail
transitive verb
,
intransitive verb
to send (a message) to (someone) by e-mail
---
E-mail
or e·mail
noun
A system for sending and receiving messages electronically over a computer network.
A message or messages sent or received by such a system.
transitive verb
e-mailed
,
e-mail·ing
,
e-mails
or
e·mailed
or
e·mail·ing
or
e·mails
To send (someone) an e-mail: I'll e-mail you when I know my schedule.
To send (a message) by e-mail.
Origin of e-mail
e(lectronic) mail
.
---
E-mail
Noun
(plural emails)
A type of dark ink
Origin
French émail ("enamel")
Noun
(countable and uncountable, plural emails)
Alternative spelling of e-mail.
Usage notes
Many speakers consider the spelling e-mail more correct; however, both spellings are quite common.
Noting that mail is not countable in common usage, certain style guides recommend against the countable use of email, preferring such phrasings as email message; however, such countable use is quite common.
Verb
(third-person singular simple present emails, present participle emailing, simple past and past participle emailed)
Alternative spelling of e-mail.
Noun
(countable and uncountable, plural e-mails)
(uncountable) A system for transferring messages from one computer to another, usually via a network.

He sent me his details via e-mail.
The advent of e-mail has simultaneously brought our society closer together and farther apart.

(countable, see Usage notes below) A message sent via an e-mail system.

He sent me an e-mail last week to that effect.
I am searching through my old e-mails.

(uncountable, see Usage notes below) A quantity of e-mail messages.

I am searching through my old e-mail.
My inbox used to only allow 50 MB of e-mail at a time until last year, when they upgraded it to 2 GBs!

(informal) An e-mail address.

What's your e-mail?
Usage notes
The spellings e-mail and email are both in common use. The form email is now more widespread, probably due to one less character and the tendency to drop hyphens, making it easier to write or type, and this form is becoming a standardized usage for most businesses and Internet users. Those who follow strict orthographic rules may consider the hyphenated form to be proper; however, as a recently coined word, the issue remains an unsettled matter at this point.
As a contraction of electronic mail, some feel that e-mail should follow the same pluralization rules and be uncountable, prohibiting the forms e-mails and an e-mail. Others feel that it is not necessary for e-mail to maintain grammatical similarity to mail, and prefer to pluralize the term as a countable noun. This issue is hotly debated, but it is seldom considered incorrect to use the uncountable form.
Verb
(third-person singular simple present e-mails, present participle e-mailing, simple past and past participle e-mailed)
To send an e-mail or e-mails to.

She e-mailed me last week, asking about the status of the project.

(intransitive) To send, or compose and send, an e-mail or e-mails.

Most teenagers spend twenty-six hours a day e-mailing and surfing the Web.

(may take two objects) To send via e-mail.

I'll e-mail you the link.
He e-mailed the file out to everyone.
---
e-mail - Computer Definition
Application software system originally developed for store-and-forward text messaging over a packet-based computer network. E-mail originated in the mid-1960s for communications between time-share computer users. E-mail quickly became popular for government and military communications in the late 1960s and early 1970s, especially as an application on the Advanced Research Projects Agency Network (ARPANET), which was the predecessor to the Internet. E-mail was popularized in the late 1970s and early 1980s, as part of the office automation concept designed to lead us toward the paperless office. E-mail relies on a client/server architecture can be implemented over local area networks (LANs) or wide area networks (WANs) such as the public Internet. Some e-mail systems, such as Microsoft Outlook, support not only plain text, but also rich text and Hypertext Markup Language (HTML) formatting. Unfortunately, communication with e-mail clients not supporting rich text or HTML creates considerable formatting incompatibilities. E-mail now permits the attachment of other forms of information, including binary files, images, graphics, and even digitized voice and video. E-mail system features typically include address book, confirmation, and formatting. See also address book, ARPANET, client/server, confirmation, e-mail address, format, HTML, IMAP, Internet, MIME, plain text, POP, rich text, SMTP, spam, store-and-forward, and time-sharing.
---
(Electronic-MAIL) The transmission of text messages from sender to recipient. E-mail messages can also be formatted with graphics like a brochure or Web page, an enhancement that many users like, but that creates more spam and a security risk (see HTML e-mail). Users can send a mail message to a single recipient or to multiple users. In addition, JPEG photos as well as any other type of computer file may be attached to the message (see e-mail attachment). Mail is sent to a simulated mailbox in the organization's mail server until it is downloaded to the "in" mailbox in the user's computer. The Messaging System and the Client An e-mail system requires a messaging system, which is primarily a store and forward capability based on the Internet's Simple Mail Transfer Protocol (SMTP). A mail program (e-mail client), such as Windows Mail, Mac Mail, Outlook and Eudora, provides the user interface for mailboxes and send and receive functions. Popular e-mail services such as Gmail and Yahoo Mail are Web based, in which case the Web browser is used as the mail program (see e-mail interfaces). The Internet Changed It All The Internet revolutionized e-mail by turning countless incompatible islands into one global system. Initially serving its own users, in the mid-1990s, the Internet began to act as a mail gateway between the major online services such as CompuServe and America Online (AOL). It then became "the" messaging system for the planet. In the U.S., Internet mail is measured in the trillions of messages each year. See e-mail vs. fax, messaging system, instant messaging, read receipt and self-destructing e-mail.
The First E-mail on the Internet
In 1971, the first e-mail message was typed into the Teletype terminal connected to the Digital Equipment PDP-10 toward the back of the room in the following picture. The message was transmitted via ARPAnet, the progenitor of the Internet, to the PDP-10 in front. Dan Murphy, a Digital engineer, took this photo in the Bolt, Beranek and Newman datacenter. See
ARPAnet
.
---
E-mail
Variant of e-mail
noun
a system for sending messages, as by telephone line, from one computer or terminal to a receiving computer or terminal and for storing such messages
a message or messages sent or stored in such a system
Origin of e-mail
; from e(lectronic) + mail
transitive verb
,
intransitive verb
to send (a message) to (someone) by e-mail