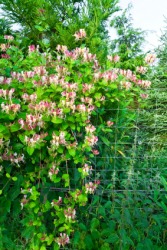 Honeysuckle growing on a fence.
---
honeysuckle definition by Webster's New World
noun
any of a genus (Lonicera) of plants of the honeysuckle family, with small, fragrant flowers of red, yellow, or white
any of several similar plants with fragrant flowers, esp. columbine
Origin: Middle English honisocle, diminutive (see -le) ; from Old English hunigsuce (Brit dialect, dialectal honeysuck) ; from hunig, honey plush sucan, to suck
adjective
designating a family (Caprifoliaceae, order Dipsacales) of dicotyledonous, mostly woody plants, including the coralberry and elder
Webster's New World College Dictionary Copyright © 2010 by Wiley Publishing, Inc., Cleveland, Ohio. Used by arrangement with John Wiley & Sons, Inc.
---
honeysuckle definition by American Heritage Dictionary
noun
Any of various shrubs or vines of the genus Lonicera, having opposite leaves, fragrant, usually paired tubular flowers, and small berries.
Any of various similar or related plants.
Origin: Middle English honysoukel, alteration of honisouke, from Old English hunīsūce : hunig, honey + sūcan, to suck; see suck.