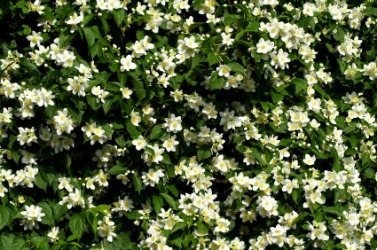 A flowering jasmine bush.
---
jasmine definition by Webster's New World
or jasmin
noun
any of a genus (Jasminum) of tropical and subtropical plants of the olive family, with fragrant flowers of yellow, red, or white, used in perfumes or for scenting tea
any of several other similar plants with fragrant flowers, as yellow jasmine
pale yellow
Origin: French jasmin ; from Arabic yās(a)mīn ; from Persian yāsamīn
Webster's New World College Dictionary Copyright © 2010 by Wiley Publishing, Inc., Cleveland, Ohio. Used by arrangement with John Wiley & Sons, Inc.
---
jasmine definition by American Heritage Dictionary
also jes·sa·mine
noun
a. Any of several vines or shrubs of the genus Jasminum, native chiefly to Asia and having usually compound leaves and white or yellow flowers. Some of the fragrant species are used in making perfume.

b. The perfume obtained from these plants.

See Carolina jasmine.
Any of several plants or shrubs having fragrant flowers.
A light to brilliant yellow.
Origin: French jasmin, from Old French jassemin, from Arabic yasmīn, from Persian yasmīn, yāsman, from Middle Persian yāsman.