adjective
Husky means sounding hoarse, or being heavy built.

An example of something husky is a voice of a person with a cold.
An example of a husky person is someone who is a bit overweight.
noun
The definition of a Husky is an Arctic sled dog.

An example of a Husky is the Greenland Husky.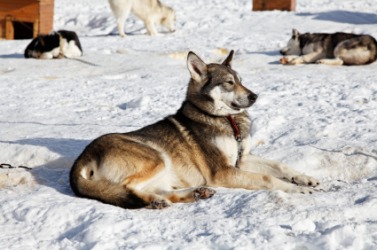 A husky relaxing in the snow.
---
Husky definition by Webster's New World
adjective
huskier, huskiest
full of, containing, or consisting of husks
like a husk

sounding deep and hoarse; rough: a husky voice
☆

Origin: with reference to the toughness of a husk

big and strong; robust; burly
---
Husky definition by American Heritage Dictionary
adjective
husk·i·er
,
husk·i·est
Hoarse or rough in quality: a voice husky with emotion.

a. Resembling a husk.

b. Containing husks.
Origin: From husk.
Related Forms:
adjective
husk·i·er
,
husk·i·est
Strongly built; burly.
Heavily built: clothing sizes for husky boys.
noun
pl.
husk·ies
A husky person.
Origin: Perhaps from husk.
also hus·kie
noun
pl.
hus·kies
often Husky or Huskie A dog of a breed developed in Siberia for pulling sleds and having a dense, variously colored coat. Also called Siberian husky.
A similar dog of Arctic origin.
Origin: Probably from shortening and alteration of Eskimo.
Husky
Variant of husky